Athlete of the Week: Zach Hartman '22, Wrestling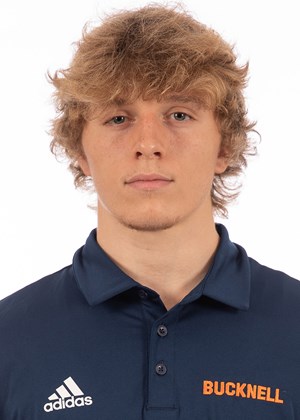 In his second year representing the Orange and Blue, Zach Hartman '22 has surged to become one of the team's top performers. The sophomore from Belle Vernon, Pa. was named a co-captain for the 2019-2020 season alongside senior teammate Drew Phipps '20. It is a fitting title for Hartman; he values his role as a leader and hopes to positively influence his teammates in his actions on and off the mat.
"It feels amazing to get wins and learn for myself, but it will never triumph the feeling of making a teammate click and helping them navigate over their mental barriers before a match and then watching them go out and kill it," he said.
In his first season, Hartman was the runner-up at the Eastern Intercollegiate Wrestling Association (EIWA) tournament, the first Bison freshman to ever do so. His second-place finish earned him an automatic bid to the NCAA meet in the 157-pound weight class. Seeded 14th, he went 2-2 at the 2019 NCAA Championship, sealing his two victories in the final seconds of the matches. Over the course of the season, Hartman posted a 10-1 record against EIWA opponents, going 28-9 overall and 14-4 in dual action. His outstanding first year garnered him a number eight national ranking.
Now in his sophomore year, Hartman has been instrumental in the Bison's recent success. In late December, he placed sixth at the prestigious Ken Kraft Midlands Championships. He has had a pivotal impact in past weeks in league play, as well. On Jan. 18, he notched a pin in just over one minute to spark a rally that propelled the Orange and Blue over Harvard. The following day, he tallied another pin — his seventh of the season — in the first period to win one of 10 bouts against Brown University. The 31-3 victory was the Bion's largest margin over the Bears in program history.
In recognition of his strong season to date, Hartman made the first NCAA Coaches' Panel Rankings of the season, which will be employed in the selection process for the 2020 NCAA Division I Wrestling Championships. Hartman is currently slotted 17th at 165 pounds, having moved up a weight class from last season. On the heels of this success, Hartman's expectations for himself and his team are high — higher than last year's, he says. For himself, Hartman hopes to be an NCAA champion. As for his team, he sees great potential in the younger wrestlers.
"Especially with the freshmen in the lineup, I know that this team has what it takes to rise up in the conference," Hartman said.
Hartman has enjoyed competing alongside his brother and teammate, Mitch Hartman '20. The bond that the two share is evident.
"As with everything we do, we always compete with one another on another level, so he has definitely made me both a better athlete and a better person all around. He finally made the lineup this year and I couldn't be more proud for him knowing how hard he has worked and all that he has been through over the past four years," Hartman said.
Hartman says that he chose to be a student-athlete for the Bison "because it's not what normal people do." It's safe to say that he is building anything but a "normal" wrestling legacy at the University. In his career, he has notched an impressive five wins over nationally-ranked opponents. Perhaps more importantly, his energy, passion, and persistence drive him forward as a competitor, a teammate, and a leader.
"I knew since I was a kid that I had something special and a passion for sports, so I coupled that with academics," he said. He credits his ability to meet the demands of the student-athlete life to his parents, siblings and friends.
The Bison are 6-3 overall this season, and 5-1 in conference match-ups. With a perfect 5-0 home record, the Orange and Blue seek to carry that momentum on the road when they return to the mat on Feb. 1 at the University of North Carolina.
CAREER STATS:
46-15
16 falls (pins)
1 tech fall
(Visited 551 times, 1 visits today)