Athlete of the Week: Alexandra Butz '21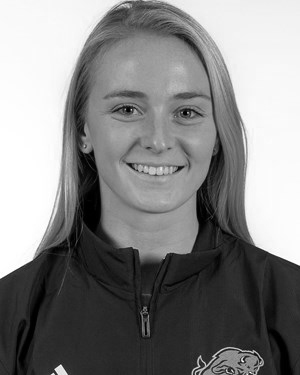 Pole vaulter and high jumper Alexandra Butz '21 has been an influential factor in the success of the Bison women's track and field team for the past three seasons. Butz initially chose the Orange and Blue for the team's competitive record and close-knit family community.
"It seemed like the perfect place to get a degree and also be able to compete at a high level. We compete against other Patriot League schools, but we also go to meets where we get to go against UPenn and University of Maryland, amongst other big schools, and that high level of competition is really fun," Butz said.
Her personal record for the pole vault is 3.55m (11 feet, 7.75 inches), which she set at the Gulden Invitational on Jan. 25 this year. Her personal best for high jump is 1.70m (5 feet, 7 inches), which she set at the 2019 Patriot League Indoor Track and Field Championships last February. That performance is one of Butz's favorite memories of her collegiate career to date, as it earned her a silver medal and placed her third in program history for the indoor high jump.
"Everything we do is for the team, so it's fun to be able to celebrate together," Butz said. "When I came in second my sophomore year, all my teammates were there watching and cheering me on and it meant a lot to me."
She also had an outstanding first season in 2017-18, scoring eight points for the team en route to an indoor Patriot League Championship. She earned Second Team All-Patriot League recognition for her contribution and received that honor again as a sophomore. She was also named to the Patriot League Academic Honor roll after her freshman season.
At the Sykes & Sabock Challenge on Saturday hosted by Penn State, Butz inched towards meeting and beating those personal bests with a high jump measure of 1.67m and a pole vault height of 3.53m. Her season-best high jump performance was impressive for third place among females in a competitive field of schools.
In just this season, Butz has six top-five finishes in five meets — four in the high jump and two in the pole vault. She and the team are now looking forward to the indoor Patriot League Championships meet once again, where Butz says the athletes are trying to sweep the podium in the high jump. Doing so has been a goal for Butz since she arrived on the team as a first-year. Along with fellow jumpers Sydney Contrino '20, Lexy Forrestal '20, Michaela Bracken '22 and Lizzie Veenhof '23, Butz is confident that they will be able to overcome the competition and finally accomplish this goal. The Patriot League Championships will take place Feb. 29 – March 1 at Lehigh.
Butz credits a large part of her motivation to her teammates, family, and coach Shakeema Welsch. "[Coach Welsch] motivates me a lot because she pushes me really hard in practice, but also believes in me completely," Butz said. "It's definitely a combination of wanting to help my teammates and also wanting to make my family and coaches proud."
The women's track and field team will next compete at the Doug Raymond Invitational in Kent, Ohio on Feb. 14-15.
Career Statistics:
16 points at Patriot League Indoor Championships
5 points at Patriot League Outdoor Championships
3rd in school history in the indoor high jump (5'7")
Two-time Second Team All-Patriot League
One-time Patriot League Honor Roll
(Visited 532 times, 1 visits today)