Athlete of the Week: Georgia Lewis '22, Women's Water Polo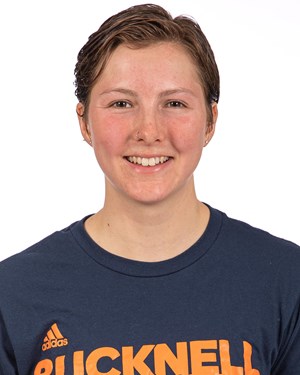 The Bison women's water polo team is off to a red-hot start in 2020 with a record of  10-1. Goalkeeper Georgia Lewis '22 is a force to be reckoned with in the cage and has been an important factor in the Orange and Blue's early success. Hailing from Redwood, Calif., Lewis earned recognition as a USA Water Polo Academic All-American in both 2016 and 2017. Upon entering college, she knew that she wanted to play Division I water polo while also obtaining a high-quality education. In addition, she wanted to explore a new part of the country, away from her home state of California. "Bucknell ended up ticking off all those boxes for me," Lewis said.
From the very beginning, Lewis has made her contribution to the team apparent. As a first-year, she earned a starting role for 29 of her 31 game appearances, registering a save percentage of 0.503 over the course of the 2019 campaign. Her 239 saves in the 2019 season were eighth-most in a single season in program history. One of the proudest moments of her collegiate athletic career to date was beating No. 14 Harvard in a 9-7 road upset last season.
"It was a great moment where we were all really clicking as a team and it was a close game the whole time, which made everything more fun. I'm looking forward to those same moments this year: when everything we've been working so hard for comes together and we play like a cohesive unit," Lewis said.
With the strong start the team is off to this year, it seems likely that those moments will come for Lewis and the Bison. She has started all 11 matches in the cage and boasts a 0.477 save percentage in 334 minutes of play on the season. Lewis has also tallied three assists this year, adding to her four from last season.
The team is fresh off of a 4-0 weekend at the Mercyhurst Invite, where they took down Gannon, Mercyhurst, McKendree and Salem. The team accumulated a 21-point goal differential, with strong offense on one end and solid goalkeeping from Lewis on the other, tallying a total of 29 saves on the weekend. All three of her season assists came on the second day of the Invite.
"I think so far we've been able to break other teams' defenses pretty effectively, and I think that's what's really helped us so far. We're going to start playing a lot of stronger teams in the next couple of weeks, and I think our goal should just be to focus on making smart decisions and not panicking under pressure," Lewis said.
Lewis emphasized that she has become a lot more confident in her playing abilities, helping her to further develop as a player since she started with the Bison. She has also focused on building her strength and increasing her endurance. Practice plays an important role; before games, she warms up in the pool in the same way that she does at practice.
"Since I usually feel pretty good at practice, if I warm up the same way, I like to think that I'll feel good playing, too," she said.
Coming up, the Orange and Blue will head to Ann Arbor, Mich. for a four-game invite from Feb. 29 – March 1, where they will take on Iona, Saint Francis, Long Beach State and Michigan.
STATS:
42 games played
40 games started
7 assists
319 saves
47.7 save percentage
334:00:00 minutes played
(Visited 145 times, 1 visits today)