Athlete of the Week: Ellie Mack '20, Women's Basketball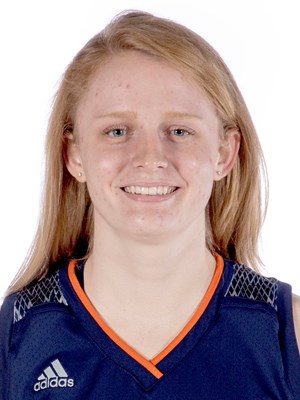 Ellie Mack '20 joined elite ranks this weekend. A senior forward on the women's basketball team, Mack scored her 1,000th point on Feb. 22 against Lehigh. She became the 26th Bison basketball player to ever hit the 1,000-point career milestone.
"Scoring my 1,000th point was a very special moment in my career," Mack said. "Although this is an individual record, I think that this accomplishment is a huge testament to my teammates, coaches and family who have supported and empowered me throughout my time playing basketball."
After being forced to miss her freshman season due to recovery from an ACL injury, Mack surged to become one of the top performers for the team. In her sophomore season (2017-18), she played in all 32 contests, averaging 5.8 points and 2.9 rebounds per game. She shot a solid 47 percent from the field and 37 percent from three-point range. During her junior season (2018-19), Mack started 32 of the team's 33 games, having to sit out one for injury. She averaged 12.8 points per game and 6.5 rebounds — while also ranking in the Patriot League top 10 in field goal percentage, blocks per game and scoring.
Despite her impressive individual accomplishments on the court, taking home the Patriot League Championship trophy in 2019 was one of Mack's proudest moments of her collegiate career. The Bison beat American 66-54 in the conference final at Sojka Pavilion, then went on to lose a close 67-70 heartbreaker against No. 5 Florida State in the first round of the NCAA Tournament. Mack tallied 12 points in her March Madness debut.
"There was a lot of hard work that went into that season and we overcame a lot of adversity in order to secure that championship," Mack said. Mack hopes that the team can win the Patriot League tournament again this season. With an overall record of 20-6 and three games remaining in the regular season, the Bison sit two games above Colgate for first place in the conference. It is the fifth consecutive season that the Orange and Blue have hit the 20-win plateau.
For her part, Mack averages 15.2 points and 7.3 rebounds per game, leading the Bison in both categories. She also has tallied 21 blocks on the season to go along with an 81.8 percent free throw percentage. In a non-conference match-up at Quinnipiac on Nov. 16, Mack notched a career-high 33 points.
Mack, a neuroscience major, is a standout off the court as well. She was named to the Patriot League Academic Honor Roll during her first three years with the Orange and Blue. At the same time that the University has provided her with the opportunity for rigorous learning in the classroom, Mack says that she has developed a better sense of "basketball IQ" during her time here.
"I think that I am a completely different player now than I was when I first arrived at Bucknell. I have obviously become stronger, faster and more skilled at the game, but the biggest development has been my basketball IQ," Mack said. "College basketball involves a lot of strategy that you do not think about in lower levels. I have tried to absorb as much as I can from my coaches and teammates."
Coaches and teammates have played a critical role in Mack's experience with the Bison. Because the team is small, they know each other well and have spent hundreds of hours training together, she says. In fact, when she first visited during her recruiting period, Mack states that it was "clear upon [her] first visit that the coaches and players in this program were great people who [she] wanted to be around every day." Even after her senior season ends and she graduates in May, Mack knows that she wants to remain involved with the basketball community beyond Lewisburg. 
"Whether it be coaching, playing, or just spectating, my love of the game will not go away once I graduate," Mack said.
(Visited 464 times, 1 visits today)