Financing the adventure of a lifetime: study abroad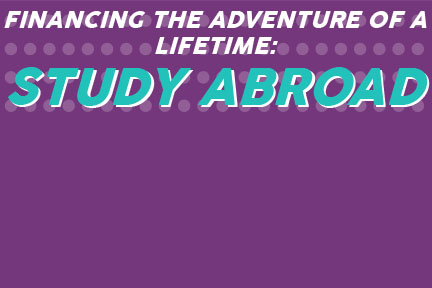 Studying abroad is an irreplaceable, once in a lifetime experience that can be deemed as a priceless adventure. And yet for many, there is indeed a "price" to study abroad — and that is the literal cost of what it takes to study in a foreign country.
While some students may be able to finance going abroad, many need to consider not just what program to study with, but also how they will finance their time abroad. The process of applying for financial aid and scholarships may seem daunting, but there are resources and opportunities available to students at the University and elsewhere that can aid in their endeavors and dreams of traveling the world. 
Understanding Financing with 'Bucknell In' & 'Bucknell-Approved' Programs
Before students start applying for aid, it is important to decide what kind of program to study with, as the financial packages of study abroad programs vary. 
For "Bucknell In" programs, the financial aid that students normally have on campus is the same aid that applies when they travel abroad. Just like the University's on-campus financial policies, "Bucknell In" programs in the fall and spring semesters bill students one bill that encompasses tuition, room and board, certain travel costs and meal plans (if applicable to the specific program students apply to). Another option is to study abroad during the summer session of "Bucknell In;" however, these session programs are billed twice — once for program fees in March and again for tuition in June.
In addition, University students can choose to study abroad through a "Bucknell-Approved" program — sessions conducted through other universities and programs — if none of the "Bucknell In" locations are appealing. In terms of finances for "Bucknell-Approved" programs, students are charged two bills: one for the total of the University's tuition (which does not include their financial aid) and the second for non-tuition fees (i.e. room and board, deposits, etc.).
Those who demonstrate financial need for the study abroad programs mentioned can reach out to the Office of Financial Aid, which will consider their need and evaluate them for the Global Scholars Grant.
The University's Office of Financial Aid
The Office of Financial Aid at the University helps guide students through the financial process via one-on-one consultations with the financial advisers on staff.
When it comes to effectively preparing to study abroad, the Office of Financial Aid advises students to plan ahead of time. Director of Financial Aid Andrea Leithner Stauffer explains just how far ahead the planning should occur.
"If students are applying for study abroad for the fall semester, we encourage a visit to the Office of Financial Aid at the beginning of the spring semester preceding the program," Stauffer said. "For spring programs, students should begin contacting the Office of Financial Aid the preceding April. Scholarship notification is at the discretion of the program partner. We find that students are usually notified in May for the fall semester and November for the spring semester."
In addition to planning ahead, the Office of Financial Aid recommends that students consider getting part-time jobs during the breaks leading up to their time abroad so that they have some funds to fully experience foreign cultures. Another recommendation for planning to go abroad is to talk to peers who have participated in specific programs that sound interesting. This will offer students knowledge about program logistics and the overall experience of the program. Another noteworthy recommendation is that students work with advisers from the Office of Global and Off-campus Education (OGOE) when it comes to picking and comparing programs.
The Office of Global & Off-campus Education 
The OGOE helps students find which program is the best fit for them financially and academically by comparing the numerous programs that OGOE partners with. To help aid students' decisions about study abroad programs, OGOE advisers provide students with templates of each abroad program.
Most of OGOE's partner programs offer scholarships that are need or merit-based scholarships. When it comes to completing applications for program scholarships, Julie Rowe, the operations manager at OGOE, encourages students to complete applications if they are remotely considering financial aid. "This [the application] is a very quick and easy process, and our providers are generous in their aid awards. Even if a student does not qualify for financial aid at [the University], it is always worth completing an application to see if you can receive an award through our providers," Rowe said.
In considering programs, Rowe and the OGOE advise students to consider the cost of living in various locations, as well as the individual costs set by providers.
Try & You Might Succeed
The process of applying to study abroad can be a stress-inducing, with finances being a large factor in determining how and, in some cases, if students can go abroad. While the prospect of getting financial help may be frightful, students can find comfort in knowing that the University has resources at their disposal to help them find ways to go abroad. 
Rowe offers this for students who are daunted by searching for financial help to go abroad: "Students should not be afraid to explore study abroad because of financial concerns," she said. "Working with your study abroad advisor, academic advisor, financial aid office, and the program providers, will show you that with planning and determination, anything is possible."
(Visited 136 times, 1 visits today)