Athlete of the Week: Will Yorke '20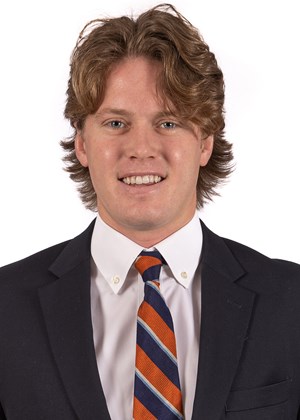 Bison men's lacrosse attacker Will Yorke '20 earned national accolades this week, being named as the U.S. Lacrosse Player of the Week, announced on March 2. The senior captain from Chicago has notched 25 goals to lead the national rankings, and he only needs nine more to surpass his career-best 2018 total.
The recognition comes after a week of record-setting performances. On Feb. 25, the Bison took down Binghamton 16-4, with Yorke logging four goals and three assists in the offensive outpouring. The Orange and Blue then defeated Marist by a final score of 20-11. The victory against Marist was a record-breaking one for Yorke. His nine goals set the school standard and tied the Patriot League single-game record. The addition of two assists brought his point total to 11 for the day, which ties the program record. He also added two ground balls and caused two turnovers, stacking the stat sheet.
"A lot of my goals were in transition," Yorke said of the Marist contest. "We were pushing transition after defensive stops. Our defensive midfielders have done an unbelievable job this year of drawing the defenseman to them and then dishing the ball to the attack to score. I got a lot of those opportunities and was able to make the most of them."
Yorke's individual success comes on the heels of a strong start to the 2020 campaign for the team. The Bison were nationally ranked 20th in the coaches poll on March 2 after a 2-0 week. Their 5-1 start is the program's best since 2013.  Yorke's other notable performances this season include a five-goal first half in the Orange and Blue's season opening win over Furman University.
In light of his recent success, Yorke reflected on his start in Bison colors and how he has developed as a player since starting his college career. He chose to play for the Bison because he felt that it offered "the perfect balance of academic, athletic and social life." Having not come from what he calls a "hotbed" (a geographical region in the country where lacrosse is prominent), being on a Division I team has helped him to gain an improved understanding of the game.
"I've developed a much better understanding of team lacrosse," Yorke said. "I never quite understood how to work within a legitimate offensive scheme, which is a must when you're trying to win games at the Division I level."
After seeing action in only 12 games during his freshman and sophomore season, Yorke's junior campaign brought breakout success. He became a starting attacker for the Orange and Blue, leading the team in goals with 34 and points with 45. On the way to logging these stats, Yorke took 118 shots, the fourth-highest season total in school history. In recognition, he was named to the All-Patriot League Second team, which he views as his proudest personal accomplishment of his collegiate athletic career. His favorite team accomplishment is a 9-8 road upset at Yale during the 2018 season.
With just nine games remaining on their short regular season schedule, the Orange and Blue kick off Patriot League action at Boston University Saturday at 1 p.m. The team has high hopes for conference play, according to Yorke.
"The Patriot League is wide open this year and as a team, we feel like there's not a game that we should lose," he said.
Career Statistics:
62 goals
17 assists
79 points
45 ground balls
188 shots
2019 All-Patriot League Second Team
(Visited 328 times, 1 visits today)