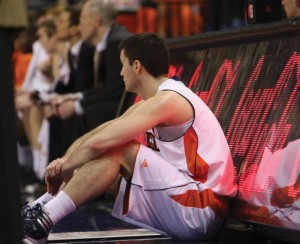 Chris McCree
Sports Editor
Despite a 30-point, 14-rebound effort by Mike Muscala '13, the men's basketball team could not hold off a surging Lehigh squad in the Patriot League Championship Wednesday night, falling in heartbreaking fashion 82-77.
Entering the game riding a four-game winning streak, the Orange and Blue were met by a Mountain Hawks team who had issued the Bison their first Patriot League loss of the year back on Feb. 16 after C.J. McCollum hit a game-winning three-pointer with one second remaining on the clock.
Story continues below advertisement
McCollum proved to be the hero once again for Lehigh in the Championship contest, recording a team-leading 29 points, including two game-clinching free throws with 4.1 seconds remaining.
In front of a sold-out crowd at Sojka Pavilion, the Bison struggled early on in the contest, recording just 15 points through the first 10 minutes of play and allowing the Mountain Hawks to enter the half with a seven-point lead.
After four minutes of back-and-forth play to open the second half, the Bison strung together a series of consecutive scoring possessions over the next three minutes of play. During the stretch, forward Joe Willman '13 hit a clutch fade away jumper to bring the score to within one, and then Brian Fitzpatrick '13 hit one of two free throws, tying the score at 50. Willman recorded 10 points and six rebounds during the game and was named to the All-Tournament squad after recording 18 points in each of the first two tournament games.
Behind the stellar offensive play of McCollum and Gabe Knutson, the Mountain Hawks gradually extended their lead for much of the remainder of the game. With just under a minute left on the clock, the Bison trailed 78-71 and looked all but done. Yet over the 30 seconds, Bryson Johnson '13 netted a pair of three-pointers to bring the Bison within one.
After fouling and repossessing the ball with 26 seconds left, the Orange and Blue could not capitalize on a tough lay-up try by Cameron Ayers '14 and lost possession. From then on, Lehigh hit four free throws to extend its lead to five and claim the program's second Patriot League title in three years.
With the loss, the Orange and Blue are eliminated from NCAA contention. By virtue of their regular season championship, the Bison did clinch their first-ever birth in the National Invitation Tournament.

(Visited 66 times, 1 visits today)