Facebook frenzy: Professors adapt to online social networking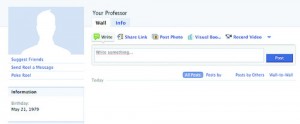 By Jessica Rafalko
Writer
Coming soon to a computer screen near you: pictures from your physics professor's trip to Bermuda; status updates from the people who assign your term papers and grade your exams; a reminder on your sidebar, accompanied by a pink-wrapped package with a bow: Today is Stephanie Larson's birthday.
Yes, your professors are on Facebook. And some, like associate professor of classics Stephanie Larson, are embracing the website with the same enthusiasm as do their students.
When her colleagues initially suggested she create a Facebook account, Larson was skeptical.
"I thought, Why would I do that?" she said. "And now I love it."
Chris Boyatzis, professor of psychology, had similar misgivings.
"I was very, very reluctant at first," he said. "I just saw it as sort of a college-kid thing."
This assessment is not unfair. One of the first things most college students do when they meet someone new is try to find them on Facebook. In the first weeks of school, most first-years are inundated with friend requests: the cute guy they met at orientation, the girl who sat beside them in their biology lecture.
But should professors be included in this friend request fusillade?
Though Boyatzis enjoys Facebook connections with former students, he does not accept friend requests from current ones. He enacted his "no current students policy" after he was unsettled by what he found on some of their profiles.
"Their pictures would pop up … in social settings that they probably didn't really want me to see, and I didn't want to see at all," Boyatzis said.
Larson, who does friend some current students, agrees the line between the academic and the personal can become blurred.
"I find out a lot of things I don't want to know about my students," she said. She feels some students "use Facebook like a psychotherapist."
But how do professors use Facebook? While Boyatzis describes the thrill of reconnecting with former classmates (some dating all the way back to elementary school), family members and students who are now old enough to be having children of their own, Larson has attempted to use Facebook to supplement academics.
She first came to Facebook as part of the formation of a group for the humanities residential college. She later became an administrator (along with associate professor of comparative humanities John Hunter) for the Bucknell in Greece and Turkey Facebook group.
When it comes to her teaching methods, Larson is leery of assigning work to students through Facebook. She opts for Blackboard e-mails, saying that "[Facebook is] not my tool."
Larson does enjoy the social aspect of Facebook, but she says being friends with her students limits her in terms of what she can put on her own profile. She is occasionally tempted to post a status message, but then she realizes, "Oh my gosh, I can't say that in front of my students."
Boyatzis agrees that being friends with current students requires professors to exercise a degree of caution. In some ways, professors are taking just as big a risk—and raising just as many questions about what is appropriate to post online—as students are.
"Facebook doesn't put them in a tiny bubble that's closed to outsiders," Boyatzis said of students—though these issues of discretion might be just as important to their professors, as social networking sites begin to cross generational lines.
Students for the most part agree that they should not become friends with a faculty member—at least until after a course is over. Matt Tilford '11 is friends with several faculty members on campus. In all but one case, he friend requested professors only after he completed their courses.
"I found it a little weird at first," he said. "But over time I have grown fond of friending faculty members as it is an easy way to stay in touch with some of my favorite teachers after I finish their classes."
Corinne Brandt '11 is also friends with a few faculty members on Facebook, though in general she waits until she knows a person well in enough in a setting outside the classroom before sending a friend request.
"I guess sometimes it works to strengthen the relationship to more than just student and teacher, and more to actual friendship," she said.
(Visited 107 times, 1 visits today)