Women's soccer scores first victory of the season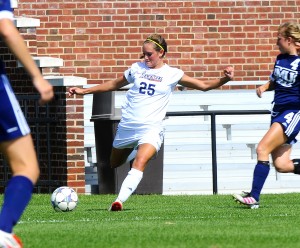 Ajan Caneda
Writer
On Aug. 19, the women's soccer team defeated Robert Morris at home 3-1 to pick up their first win of the season. The Orange and Blue were on the attack in the second half, outshooting the Colonials 17-9 in the period.
Thanks to an assist from Taryn Boucher '13 and Corinne Collins '13, forward Chelsea Garkowski '14 nailed the first goal at the 25:57 mark to give the Bison the early lead. Robert Morris answered back with a goal of their own in the 33rd minute to even the score.
In the second half, the Bison capitalized on their shot attempts. Kayla Yee '13 delivered a pass to Cassie Denger '15, as she scored the tie-breaking goal in the 51st minute. The Colonials were unable to stop the barrage of shots from the Orange and Blue, as Danielle Piccirilli '16 would score another goal off an assist by Denger to seal the win.
"This win at home will give us the momentum we need to keep pushing towards our team goals this season," Denger said. "We really came together today to make this win happen."
The first big test of the regular season came last Friday as the Orange and Blue traveled to Piscataway, N.J. to face 23rd ranked Rutgers. The Bison gave the Scarlet Knights everything they could handle, but Rutgers came away with a 2-1 win.
Intimidation did not faze the Orange and Blue, as they got off to a quick start behind a goal from Courtney Nelson '15, the first of her career, with an assist by Evelyn Nicinski '15.
"We gave them a battle that they definitely were not expecting," Nelson said. "I think the first half we just really surprised them, and they weren't ready for us."
Rutgers locked the Bison down defensively, preventing them from attempting a shot in the second half. The Scarlet Knights scored back-to-back goals off of nine shot attempts in the 53rd and 60th minutes to secure the win.
"Despite the result, I am so proud of my team. The 2nd half they were more prepared for us I think. They changed some of the girls on their back line, and they made sure to be more organized and not let us get behind them," Nelson said. "Rutgers is ranked 23rd nationally, and competing against them really showed us that we can play quality teams and make it a battle. We know that we can score, and we know how to stay together as a team. This season is definitely going to be exciting."
The Bison's next game will be against Buffalo at home today at 7 PM.
(Visited 70 times, 1 visits today)