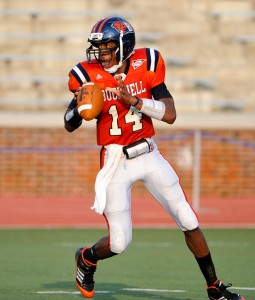 Eric Brod
Senior writer
This season may be the most highly anticipated one for the Bison football squad. Following the 2011 campaign during which the team went 6-5, a five game win improvement from the previous season, the team looks to establish itself as one of the top contenders in the Patriot League behind a defense that led the nation in turnover differential last year.
Now in his third year at the helm, head coach Joe Susan looks to continue the program's ascent up the Patriot League rankings, and with 21 seniors and 20 juniors returning, including captains Joseph Francis '13, Tyler Smith '13, and Beau Traber '13, there is plenty of experience throughout the roster. Susan has been preaching to his players throughout camp about the importance of playing with toughness and the right attitude.
"Our players have bought into being downhill in all three phases. It creates a personality of toughness that echoes through the team. We must continue to do what it takes to maintain ball security and create turnovers by our defense," Susan said.
Story continues below advertisement
While the defense will miss Bryce Robertson '12, who led the nation in interceptions, along with defensive back Sean Rafferty '12 and defensive end Josh Eden '12, the squad is more than capable of repeating its strong 2011 campaign.
The offense once again looks to be led by running back Smith, who gained 1,609 all-purpose yards (795 rushing) and had eight rushing touchdowns in 2011, and dual threat quarterback Brandon Wesley '14, who had had six rushing touchdowns of his own along with passing for 1,446 yards and seven touchdowns. On Wesley, Susan says the quarterback has shown fantastic poise and an understanding of the offense in preseason camp.
"Brandon is a great athlete. He can do many things very well. He has come a long way at being a better QB in our system. He has done a much better job of leading the offense and executing the QB position. I have never been one to treat that position gently; he understands my approach and has responded well," Susan said.
Overall, Susan has several goals in this upcoming season, and believes the leadership on this team is more than capable of taking the program towards those achievements.
"Our main goal is to play team football the right way on and off the field. We have a core of leaders who will be role models for our younger players. Our players understand that there is a fine line when it comes to success. They approach it that way in all three phases. We have a goal to be the toughest and best conditioned team on the field and to play the game one play at a time," Susan said.
While much work is still left to be done before the team opens its season Sept. 8 against Marist, there is no doubt 2012 is shaping up to be a special year for the Orange and Blue.
(Visited 220 times, 1 visits today)