Men's water polo to focus on strategy, leadership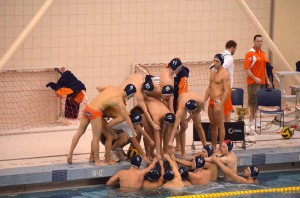 Alex Wagner
Sports editor
After establishing a solid foundation in the 2011 season under then first-year coach John McBride, the men's water polo squad is looking to continue improving as they implement a new philosophy.
Following a respectable 15-10 record last year, the Bison return their four top scorers Alex Nowlin '14, Brian Barron '13, Julian Colina '14 and Jack Else '14 as well as starting goalkeeper Matt Napleton '13 for the season. These five leaders will look to continue their success after helping the Orange and Blue to go 5-3 in the 2011 postseason.
The focus early on in the 2012 season has been intense physical conditioning. There have been two practices a day in preseason, with the morning practices often focusing solely on conditioning. Work in the weight room and hill runs also accompanied the usual work in the pool, adding up to very demanding workouts.
As with many teams, the focus more recently has shifted to developing strategy and philosophy. In addition to the new focus on giving maximum effort at every training session, the team will look for especially strong leadership from older players. Barron and Napleton, the only seniors, were elected captains before preseason began. Seven juniors add more important experience to a young squad with six freshmen.
The highlights for the upcoming season include three exciting weekends in Lewisburg: the Bison Invitational (Sept. 29 and 30), four league games against Johns Hopkins, Navy, George Washington and Princeton on Oct. 13 and 14 and the Southern Championships (Nov. 2-4).  The Kinney Natatorium also features a new video board, which is sure to add to the fans' experience.
The Orange and Blue open their season Sept. 1 against Notre Dame (Ohio) at the Navy Labor Day Open in Annapolis, Md.
(Visited 57 times, 1 visits today)