Simpler recycling streamlines process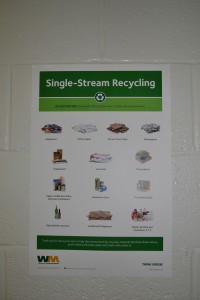 Lauren Buckley
Assistant News Editor
This July, the University implemented an innovative single-stream recycling system that was initiated this semester. The new program seeks to increase opportunities to recycle on campus and decrease waste that ends up in landfills.
"I have coordinated the efforts of many folks that believe, as I do, that moving to a single-stream recycling program is the right thing to do at Bucknell. When we presented the idea to senior management this summer, they endorsed it and we have aggressively moved to implement it in time for the return of students this fall," said associate director for facilities operations, Merritt Pedrick.
Single-stream recycling is a process where all recyclable items are mixed and unsorted in one collection bin. These items can include any sort of paper fibers (including newspaper and cardboard) as well as containers (steel, glass, aluminum and plastic). The mix of materials is then processed by specialized equipment at a Material Recovery Facility (MRF).
Recognizing that up to 25 percent of items discarded as waste under the University's former recycling system were in fact recyclable, the facilities team, along with the University's Campus Greening Initiative (CGI), decided to opt for a more effective system that could increase recycling on campus from 20 to a possible 60 percent.
The biggest challenge to the new single-stream system is updating and labeling all of the new collection bins around campus and changing their locations.
"Everything had to be changed; not only regarding which cans were used to place items in, but also who takes it out, and the size and location of cans, dumpsters and recycle sheds," Pedrick said.
Overall, Waste Management will handle all of the transportation and sorting, so the University will spend less time on these jobs and students will no longer have to transport their own recycling. Additionally, Waste Management is able to accept a 10 percent contamination rate, so the program will not be harmed if some unacceptable waste items are accidentally thrown into the collection bins.
"We are hoping to see a major increase in recycling on campus. However, we still need to be mindful of our consumption and what we're throwing away. When we say 'Reduce, Reuse and Recycle,' reduce is still the most important concept," Dina El-Mogazi, director of CGI, said.
In addition to this new environmentally-conscious system, other efforts are being made on campus to reduce waste. The Office of Civic Engagement has adopted a program called TerraCycle, a global organization that collects and converts waste into new products, such as recycled park benches or items sold at stores like Wal-Mart or Whole Foods.  TerraCycle will then donate $0.02 per unit of waste to a charity, which for us is the Bucknell Brigade in Nicaragua.
"I originally thought that the TerraCycle program would conflict with the new single-stream recycling program, but we have already raised $200 for the Brigade, and our goal is to implement more Terracycle bins around campus to spread the word," Jessica Paquin, coordinater for the Office of Civic Engagement, said.
Items like cell phones, computers and ink cartridges have always been collected by the Bucknell Brigade, but now with the TerraCycle program, items such as toiletries (makeup cases/tubes, shampoo bottles, etc.), office supplies (old tape dispensers, glue bottles/sticks) and food waste (yogurt containers, wrappers, aluminum drink pouches) can all be recycled to benefit the Bucknell Brigade.
While other urban universities may benefit from access to more sophisticated recycling programs, the University's single-stream system and participation in the TerraCycle program, attempt to compete with progressions made across the nation to reduce waste.  With the opportunity to effortlessly recycle without any sorting, the hope is that students and faculty will be more inclined to take advantage of this new system.
(Visited 73 times, 1 visits today)