Gloria to perform at Fall Fest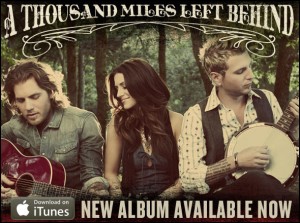 Paige Bailey
Contributing Writer
As the leaves begin to change and the school schedule kicks into high gear, the University community has a chance to celebrate the new semester at Fall Fest on Sept. 15 on Sojka Lawn. The Bucknell Student Government (BSG) along with Activities & Campus Events (ACE) and Campus Activities & Programs (CAP) sponsor this annual event.
For this year's event, people need to break out their cowboy boots and flannels because Fall Fest has been "countrified."
The countrified theme was chosen because it "works well with the relaxed atmosphere and setting of the event," ACE president Melissa Fox '13 said.
This year, Fall Fest will feature three rising country stars. Gloriana, a country music trio comprised of Rachel Reinert and brothers Tom and Mike Gossin will be headlining the day. Gloriana released their second studio album, "A Thousand Miles Left Behind," this summer. For this album, Gloriana partnered with a Grammy Award-winning producer, and the positive results of this effort can be seen in the praise the band has already garnered. Their single, "(Kissed You) Good Night," reached number two on the Billboard country chart and number 10 on the Billboard's top 200 in August. Additionally, country stars Jack Ingram and Tyler Hilton will be bringing their guitars and vocal talents to the event.
While students can always count on ACE and CAP to host great performers, there is a buzz of excitement since country acts are the main attraction this year.
"I was really excited to hear that Bucknell is finally bringing a country artist to campus. Country music is so much fun–especially live–and I think the campus will really enjoy the show," Kasha Scott '14 said. 
While Scott is a country music fan, she believes at the heart of country music is "fun," and therefore encourages all students to come out to Fall Fest and feel the country groove in an awesome setting with spectacular friends. For those who aren't as fond of country music, there will also be an old time photo booth, western shootout contest, ferris wheel, rodeo roper and bandana tie-dyeing stand.
Dan Colgan '13, who considers himself a country native, agrees that everyone should attend, regardless of their musical preferences.
"While people may not know the country artists at Fall Fest, I still suggest that people attend if they enjoy music as an art," Colgan said. 
(Visited 50 times, 1 visits today)