Cross country women second at Lang Invitational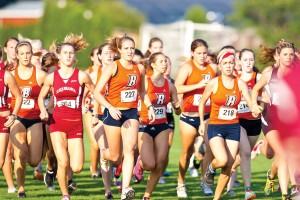 Cooper Mead
Writer
The women's cross country team started off their season strong on home turf on Aug. 31 at the Bison Open as Maddie Dulac '15 led the team with an 18:26 finish in the three-mile run. Dulac finished fourth overall, trailing 40 seconds behind the overall winner, Bloomsburg's Victoria Davis.
Justine Schnell '15 finished on the heels of her teammate with a time of 18:27, Paige Lommerin '16 finished with a time of 18:46, Zoe Gaston '15 finished with a time of 18:51 and Nora Adams '16 finished in 18:56 which allowed the Bison to tally five top 10 runners.
"The Bison Open was an opportunity for some people to prove themselves. We held out our top 13 to save them for Colgate, but we did have a few runners really rise and they are putting themselves in position for some travel spots later in the year," head coach Kevin Donner said.
On Saturday, the Bison continued their successful weekend of competition as they traveled to Colgate for the Harry Lang Invitational, finishing second overall. The Bison women were led by Caroline Tolli '13, who finished eighth overall in the women's 4,200-meter course with a time of 16:21.
The rest of the Bison runners weren't far behind, with Katie Jessee '15 placing ninth with a time of 16:28, Alison Billas '16 placing 12th, Montana DiPietrantonio '15 placing 14th, Deanna Godby '16 and Beth Braunegg '14 tying for 16th and Leah Goeke '13 finishing in 20th.
The Bison placed second with 60 points by narrowly shifting Navy, who gathered 67 points, but lost to a Syracuse squad who tallied 24 points. Despite Navy having two runners placed above Tolli, seven of the Bison women finished in the top 20 which secured second place for the Orange and Blue.
"The women ran a very conservative race early and really came on strong at the end. The ladies at the Harry Lang Invitational ran very patient and handled the tough cross country course very well," Donner said. "I was not concerned with the final result. I just wanted to see us execute our own race plan and to get to know the Patriot League Championship course better. Finishing second out of 10 was nice, but not our overall objective. It was a nice start and the ladies are excited about the next two months."
The Bison will travel to Northville, Mich. to compete in the Running Fit-Detroit Titan Invitational on Saturday.
(Visited 206 times, 1 visits today)