Women's soccer continues win streak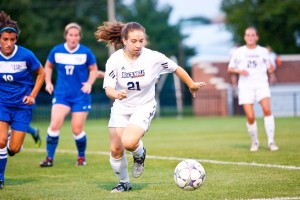 Ajan Caneda
Copy Editor
Despite a 20-8 shot advantage for St. Bonaventure, the Bison women's soccer team made their eight opportunities count and pulled off a 3-0 victory against the Bonnies on Sept. 2. This game marks the Orange and Blue's third straight victory, bouncing back from an 0-2 start to the season.
In the 40th minute of the game, Liz Dwornik '14 capitalized on her first shot opportunity, nailing a goal with an assist from both Cassie Denger '15 and Kayla Yee '13. Stiff defense allowed the Bison to keep their lead going into the half, despite a 10 shot showing from St. Bonaventure.
"The difference in the game was that we scored first. After we scored the first goal, we really just calmed down and took control of the game," Dwornik said. "It was great to get our first win on the road and continue our winning streak."
Courtney Nelson '15 scored her third goal in four games after a cross from Chelsey Garkowski '14 found its target in front of the net. The Bonnies would not go away though, as they reeled off 10 more shots in the second half, but nothing would get past the Orange and Blue. Goalie Sandita McDermott '13, who moved up to fourth on the Bison's all-time shutout list, had six saves that stopped any offensive rhythm for St. Bonaventure. Dwornik ended all hopes of a comeback, scoring her second goal of the game in the 75th minute.
"I think my performance is not only contingent upon my presence on the field but it is equally accredited to the girls in front of me," McDermott said. "Our back line of Bridget Gilmartin '14, Lauren Dandie '16, Hannah Bonotto '15 and Corinne Collins '13 has really become a unit that works extremely well together which only makes my job easier."
Two nights earlier, the Bison defeated Buffalo 1-0 at home. Neither team gained an advantage early, but the Bison were determined to score first. The Orange and Blue had a 16-5 shot advantage on the Bulls, which included 11 in the second half. After a scoreless first half, Denger launched a corner kick that found Nelson, who nailed the decisive goal.
"We are all playing with excitement and love of the game right now and it is certainly helping us on the field," Denger said. "The feeling of winning is addicting for our team and we want more and more of it!"
The Bison look to continue the momentum at their home game against UMBC tonight at 7 p.m.
"This season is such a contrast from last season. We've been finishing in the games, and as we continue to win, our confidence keeps growing," Nelson said. "Also, by continuing to train hard and competitively during practice, we can only make each other better, and we will come out prepared for any team we have to face."
(Visited 93 times, 1 visits today)