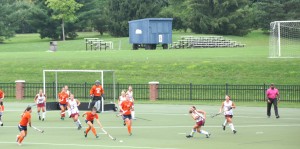 Andrew Arnao
Senior Writer
The Bison field hockey team won their home opener against Lock Haven on Sunday as they defeated the Eagles 3-1. The Orange and the Blue then scored late to push past the Cornell Big Red 2-1 on Wednesday night, bringing their overall record to 3-1.
Against Lock Haven, the Bison got on top in the first half on a goal by forward Rachel Misko '14, but the Lock Haven returned the favor on a penalty corner to make the score 1-1 going into the half. The Bison offense took control in the second half, and goals from midfielder Amie Pritchard '15 and Kiersten Sydnor '16 put the game away.
"I thought that the team played with a lot of control and composure all around the field, which allowed us to create many opportunities in the circle and to capitalize on our offensive penalty corners," Emily Hitchings '16 said.  "We were able to transfer the ball quickly and keep possession, helping us to maintain our lead and dominate the second half."
Story continues below advertisement
"After a back and forth first half, the team came out with renewed vigor in the second 35 minutes," assistant coach Jamie Montgomery said.  "Amie Pritchard knocked home the second goal with real force and the team's confidence really skyrocketed."
The penalty corners played a big part in the Bison's success, with seven total in the game and five in the second half. The Bison also tallied a season high 11 shots on goal, while the defense held Lock Haven to only four shots.
Against Cornell, the Bison fell behind 1-0 but kept up their attack, and eventually went ahead late in the game behinds goals from Kelly Stefanowicz '13 and Misko. The Orange and Blue offense finished with 26 shots and 19 penalty corners, compared to six shots and three corners for the Big Red.
The Bison will play a road game against Columbia on Saturday and then return home for a Sunday showing against Saint Francis.
(Visited 109 times, 1 visits today)