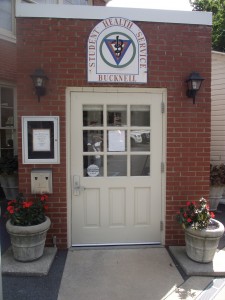 Christina Oddo
Writer
Students across campus have been less than satisfied with the waiting time at the Ziegler Health Center since the start of the year. The Ziegler Health Center is currently asking students to be more patient as changes continue to occur in order to accumulate patient records electronically. Dr. Carolyn Houk '88, medical director of Evangelical-Geisinger Health, LLC said that the changes may not be obvious to students at first because they are a work in progress. Electronic medical records will replace paper records, and the patients' records will all be electronically filed at a central location.
Jacqueline Miller, Bucknell Student Health (BSH) operations manager, said these changes might take up to a few months.
Story continues below advertisement
"The first official visits will be longer; returning visits will be quicker," Miller said.
Students complain that the wait is too long. 
"My visit lasted for an hour and forty-five minutes, of which only 5 minutes of that time I spent with a doctor," Emily Heller '15 said. "The rest of it I spent waiting–waiting to fill out paperwork, waiting to see the nurse, waiting to be put in a room and waiting to see the doctor and get my diagnosis … I expected that the Health Center would have appropriately organized itself and figured out how to minimize the amount of time students spend waiting. After all, why would they want all those sick people waiting around with each other?"
Other students believe the new system will bring many benefits to the University once established.
"It feels more like a real doctor's office now, and on the first visit it takes a while to get seen, but it seems like the new system is going to have a lot of great advantages for the school," Amanda Slaboden '13 said.
Houk described Epic, a new electronic means of communication between hospitals and the Ziegler Health Center, as an easier means to relay information between nurses and doctors. Houk said that nurses can potentially send a message of the results of tests taken to the doctor before the doctor even sees the patients.
Houk gave another example: if a patient is very sick and needs to stay at Geisinger Medical Center, Houk could follow the patient's course (x-rays, lab results, etc.) through electronic records. This communication between hospitals and the Ziegler Health Center continues to centralize records, making courses of tests and illnesses easier to track and follow. According to Miller, Epic is very confidential.
MyKeyCare, a private and secure online patient portal, is another new major change BSH has implemented, and students are encouraged to sign up. Students can request appointments with the Ziegler Health Center through MyKeyCare, message doctors and nurses, check lab test results and upload past medical history.
Doctors and clinicians at the Ziegler Health Center encourage patients to make appointments so doctors can spend more time with each patient. Houk said there is a designated group at the Ziegler Health Center that checks these requests throughout the day.
Houk said MyKeyCare is run by the state. MyKeyCare links Evangelical Community Hospital, Geisinger Medical Center, and Geisinger-Bloomsburg Hospital, as well as other hospitals within the five counties. Houk hopes this program will cover all of Pennsylvania in the future. Although everything is online, transferred information still requires permission of the patient, continuing the protection rights of patients. MyKeyCare meets federal privacy regulations regarding student records and healthcare, so only the students and the doctors and nurses treating the patients can see the records.
Currently, MyKeyCare and Epic are separate, but ultimately the goal is to put them together, Houk said.
Since the Ziegler Health Center has never done this before, Houk and others are encouraging feedback. Houk hopes that maybe in future there will be a phone application for making appointments and viewing wait times, etc.
Since the records are now centralized, communication is made easier. Emails through the University could easily be lost, but with a centralized record system, if an antibiotic worked well for you or if you really liked a doctor and wanted to see him or her again, these records are more easily accessible for reference.
"[The most beneficial aspect of this project is that] even after they leave here, the electronic records will follow for the rest of life," Miller said.
The Ziegler Health Center, despite the changes, is "still trying to provide the best for students," Miller said.
(Visited 180 times, 1 visits today)