Breyfogle to fill Hopkins' position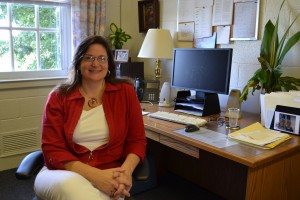 Allison Busacca
Contributing WRiter
After thirteen years as Associate Dean of the College of Arts and Sciences, Elaine Hopkins resigned, giving Professor M. Lynn Breyfogle the opportunity to take on the position.
Dean Breyfogle, a familiar face on campus was an Associate Professor of Mathematics at the University for 11 years before taking on the position.  Hopkins is continuing to work with the class of 2015, while Breyfogle works with the class of 2016, allowing for a smooth transition.  Hopkins will begin a year-long sabbatical next semester, at which point Breyfogle will work with first-years and sophomores (the classes of 2016 and 2017).
Like Breyfogle, Hopkins was a professor at the University before becoming dean. She taught in the French program for 19 years. Her love of France, the French language and francophone studies is apparent when you walk into her office and see a large map of France covering an entire wall. She is looking forward to returning to the French department after sabbatical.
Upon her return she plans to teach first-year students in a foundation seminar for the Languages & Cultures Residential College and, in 2015 or 2016, be the professor-in-residence for the Bucknell en France program. She is excited for these new ventures, all of which she could not have done as dean.
"Dean Hopkins loved teaching and misses it very much," Breyfogle said. 
Breyfogle is committed to her new role on campus. As a math teacher, she helped students solve "math problems" but now anticipates that students will come to her with "human problems, such as how to manage their time at college and planning life after college." As Associate Dean of the College of Arts and Sciences, her main goal is "student success." She wants students to "use their dean in a positive way," stressing that she is here as a resource for students. Students are encouraged to go to the dean to resolve scheduling conflicts, to request to underload or overload classes, for deciding on a major, to understand the academic policy or just to "problem solve."
Gloria Lee '15 is one student who utilized the deans when she was "having trouble picking out classes." When she decided to switch a class, the deans were "very helpful and informative."
Hopkins believes the deans are "one of the faces of Bucknell."
"[The dean] should represent a friendly adult on campus who can help [students] sort out problems and it is important to be seen by students and faculty as fair and equitable," Hopkins said.
"[I am] very happy to be following Dean Hopkins and also nervous because [Hopkins] has done such a great job," Breyfogle said. Hopkins said she has complete confidence in Breyfogle.
(Visited 370 times, 1 visits today)