Volleyball struggles at Rose Hill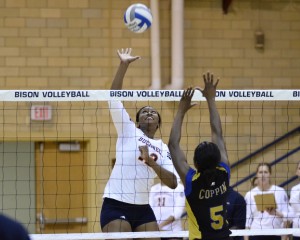 Katherine Harris
Writer
The women's volleyball team had a tough weekend at the Rose Hill Classic at Fordham University, getting ousted by three talented teams for a winless performance.
The Bison traveled to New York on Sept. 7 to face off against Cornell and started out strong with a 2-0 lead in the match, before dropping the final three sets for a 3-2 loss. Several individuals still performed strongly, including Kat Tauscher '13 with 18 assists and Morgan Mientus '14 with 16 digs. First-years were also impressive for the Orange and Blue, with Meghan Wentzel '16 trailing Tauscher in assists with 15, Claire Healy '16 with 11 kills and Karen Campbell '16 with eight blocks.
On Sept. 8, the Bison faced off against a tough Fordham squad, and were unable to get into a flow offensively as they lost in three straight sets to the host team. Mientus held up the defensive end for the Bison with 11 digs, but could not halt the assault from the Rams. On offense, Jessica Serrato '14 and Kebah Edoho '13 led the way for the Orange and Blue with seven and six kills, respectively, but were unable to match the offensive activity from their opponent.
The Bison came back looking for a win against Stony Brook and pushed their opponents to another five set match, eventually leading to a 3-2 loss. Wentzel and Tauscher led the way in assists with 19 and 18, respectively, giving the two of them 44 and 52 total for the tournament. Mientus also had 27 digs in the match, giving her 54 for the weekend, while Healy followed with 11 digs and nine kills. Healy ended the weekend tied for 23 kills with teammate Serrato.
"Overall, it was a disappointing weekend. We went to five games with two teams that we definitely could have beat in three. Also, Fordham played a very solid game against us, but we should have beat them as well," Mientus said. "Thank God they will be at our tournament this weekend so we can redeem ourselves. I think the tough losses were a good learning experience and we just need to refocus and regroup in order to win our first home tournament this weekend!"
The Orange and Blue will face off in their first home event of the season as they host the Bucknell Invitational today and tomorrow. Tonight's match at 7:30 p.m. will be a chance for redemption as the Bison will get the opportunity to play Fordham on their home court.
(Visited 71 times, 1 visits today)