Theta hosts walk for charity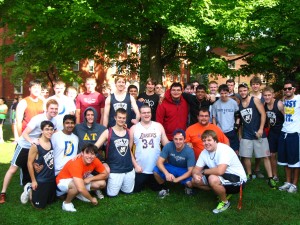 Christina Oddo
Assistant Arts & Life Editor
Students gathered on the Roberts, Trax and Kress (RTK) Quad at 10 a.m. on Sept. 16 for the first KATS Making Tracks 5k run and walk. Kappa Alpha Theta sorority (KAT) hosted this event for their national philanthropy: Court Appointed Special Advocates (CASA). The event had 318 participants.
"This year we decided to switch from our normal event, Kicks for CASA, which is a kickball tournament to a 5k," Sarah Dubow '13 said.
The 5k trail began at the RTK Quad, went to Strohecker Farm Lane, past Moore Avenue to 7th Street, onto St. Louis and 3rd Street, to Loomis and back to Marts Hall.
"We ended up having over 300 people sign up for the event, which is unprecedented for our fall philanthropy," Dubow said. "I truly attribute it to the amazing work of our philanthropy chair, Lizzie Kirshenbaum '14, and the fact that people could just sign up individually and didn't have to make teams like kickball. While kickball has always been a great event, the 5k was a new and exciting idea that meshes well with the athleticism and large number of runners on this campus."
"I was thrilled to see the number of people who came out on a Sunday morning to support KAT and their cause," Kate Albertini '14 said. "I also always enjoy that thrill that you only get from racing."
The Delta Upsilon fraternity (DU) brothers had the highest attendance at the event. As a result, 10 percent of the event's proceeds will be donated to Global Service Initiative, their main philanthropy.
"All of DU ran the race and all of [Sigma Phi Epsilon fraternity]'s pledge class ran it as well," Dubow said. "My favorite part of the race was the finish line where the DU brothers cheered on each other until the last one finished, Sig Ep cheered and stuck together the whole race and friends screamed words of encouragement as each runner crossed that finish line."
Registration prior to the event was $10, but cost $15 at the event.
"The money that we give [CASA] goes towards training advocates to help children through the court system and serve not only as a support system, but a voice for them when they are often overlooked in the trial process," Dubow said.
Participant feedback has been positive.
"I had a lot of fun at the 5k," Jon Drouin '15 said. "I was really surprised by the huge turnout, and the course was solid, too."
"The energy KAT put into the event was contagious and it was so much fun being able to support all of their hard work, plus CASA is an amazing cause," Meaghan Foster '14 said.
(Visited 133 times, 1 visits today)