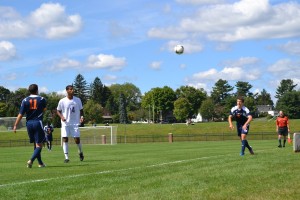 Chris McCree
Sports Editor
Coming off its first two victories of the season, the men's soccer team exploded for 11 goals last weekend in a pair of wins against Adelphi and Albany on its home turf. The Orange and Blue dominated both games from start to finish, outshooting their opponents 18-7 and 18-9, respectively.
Story continues below advertisement
"This weekend was a critical step for our team," Patrick Figgie '16 said. "After battling out five difficult games to start off our season, coming back home and being able to play our own game is a great sign of moving forward. We were able to control the tempo of both games more so than in the previous five, which allowed us to keep possession and have more attacking chances."
On Friday night, the Orange and Blue recorded the highest goal total in 20 years with seven goals, shutting out an Adelphi squad that beat the team 1-0 last season. Conor Keeley '15 led the Bison with two goals, while five others recorded single goals.
Brendan Burgdorf '13 got the Bison started with a goal in the sixth minute of play, followed by a headed goal from Jonathan Grad '15 right before the half. Joe Meyer '14 scored his second goal of the season early in the second half, while Figgie, Keeley and Mark Leibensperger '15 all scored their first collegiate goals in the later parts of the contest.
"Coming into the weekend we were riding a two game win streak, so it was important to be able to keep that momentum going–especially at home–in front of a great crowd," Brian Ward '15 said. "Last year, we did not get the result we wanted in our home opener, or when we went to Adelphi, so to get the win this year feels even better."
Following the big win, the Bison continued their strong play against Albany, taking down the Great Danes, 4-0. Defender Mayowa Alli '14 scored two goals in the first half, while Ward and Burgdorf each added one of their own in the second.
On the defensive side, the Bison were strong once again, allowing just nine shots in 90 minutes of play. Mike Lansing '16 recorded his second straight shutout of the year, only having to make two saves throughout the match.
"The overall team effort that we gave this weekend was amazing," Ward said. "Twenty-two different guys played, eight different guys scored, two different goalies got complete game shutouts and no matter what combination of players we had on the field, our level of play never dropped."
Due to their large goal differential, the Orange and Blue took the Class of '98 Invitational crown, while Penn State took second.
Playing their best soccer of the young season, the Bison look poised to compete for a Patriot League title. The Bison will travel to Lehigh tomorrow for a nighttime showdown against their rivals.
"After this weekend, we are definitely looking forward to playing Lehigh in our first Patriot League game," Meyer said. "I think it is important to realize that while we had a great weekend, we still need to come ready to play and ready to work hard. We are confident right now and need to focus on getting ready for Saturday's match."
(Visited 61 times, 1 visits today)