Volleyball solid in Bucknell Invitational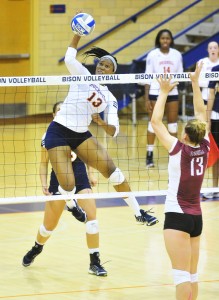 Katherine Harris
Writer
The women's volleyball team finished its last weekend of non-conference play strong  last weekend, going 2-1 during the Bucknell Invitational on Sept. 14 and 15.
"Since it was my first home game, I was really nervous and excited to see a lot of people show up to support us," said Karen Campbell '16. "The energy from our supporters in the gym was great and it made me really enjoy playing on the home court in front of a big audience."
The Bison started the tournament against a tough Fordham team, losing 3-0 again in a repeat of the two squads' meeting the weekend before. Individual performances for the Orange and Blue were stronger in the second match-up between the teams, as Hannah Young '14 racked up five blocks while Campbell and Kebah Edoho '13 had three each. On offense, Meghan Wentzel '16 totaled 17 assists and Jessica Serrato '14 added 10 kills to the performance.
On Saturday, the Orange and Blue came back with a vengeance, burying a Providence squad while earning their first three-set victory of the year. Multiple players stepped up in the win, including Serrato with eight kills and Edoho with six. Morgan Mientus '14 contributed 11 digs, while Kat Tauscher '13 recorded her first career double-double with 19 assists and 10 digs. The first home win of the season was also a high point for the Bison as head coach Cindy Opalski recorded her 400th career win.
"I think we are really going to surprise some people in the Patriot League and pull out some big wins this year.  We finally are finishing matches when we are up two games to zero, and not letting the other team get back into the game," Mientus said.
Continuing their domination for the day, the Bison finished the tournament with a 3-0 win over Quinnipiac. Mientus finished with 11 digs, while Serrato and Campbell both had performances that solidified their spots on the All-Tournament Team. Serrato finished with 11 kills on the day, totaling 29 kills and 21 digs on the weekend. Campbell ended up with five kills and four blocks, and 15 kills and 10 blocks for the entire tournament.
"Overall, I think the weekend offered an excellent ending note to our pre-conference play. We have all individually made critical changes and improvements in the last six weeks, and as a team we are growing stronger each week," Serrato said. "We also recognize that we, along with the other Patriot League teams, are now 0-0 all over again, and we have serious competition ahead of us."
The Bison will now prepare for the opening weekend of Patriot League play as they travel to Lafayette to face off against the Leopards tonight.
(Visited 351 times, 1 visits today)