Field hockey loses two close games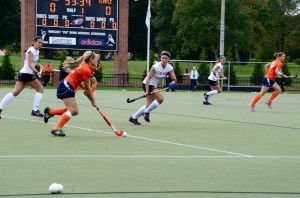 Andrew Arnao
Senior Writer
The Bison field hockey team fell at home against the No. 17 Michigan Wolverines by a score of 2-0, and also succumbed to a late rally by the Temple Owls in a 5-4 defeat. The Orange and the Blue are now 5-5 in the season.
"We were very happy with the level we are playing, just unhappy with the results," head coach Jeremy Cook said. "Michigan and Temple beat us last year 5-0 and 4-0, respectively, and this year both games were quite competitive, which we feel shows real progress."
The Bison defense stifled a tough Michigan offense for 20 minutes before the Wolverines scored their first goal of the game. Despite being behind, the defense continued to repel Michigan, allowing only one more goal in the second half. The Bison offense showed improvement through the second half but were unable to break through in the eventual 2-0 setback.
"Although we lost to Michigan, the game as a whole was a positive one," midfielder/forward Emily Hitchings '16 said. "We were able to compete with such a high caliber team. We were able to hold them to only receiving one offensive corner, which was a huge plus."
Against Temple, the Bison fell behind early in the first half, but battled back and went ahead 3-1 on goals from defender Tayler Siegrist '13, midfielder Kelly Stefanowicz '13 and Hitchings. The Owls managed to tie the score in the second half, and despite another goal by Siegrist, Temple scored two more to escape with a 5-4 victory against the Bison.
"The Temple game was a tough loss," Hitchings said. "We had some dangerous turnovers that affected the outcome of the game. On a positive note, we were able to capitalize in the goal scoring circle, and we scored on three of our penalty corners."
"The Temple game was very exciting. We ended up going back and forth with them in the second half more than we wanted to, which plays into their strength as a team and exposes a few of our shortcomings," Cook said.
The Bison will begin Patriot League play with a home game against Colgate tomorrow at 11 a.m. On Sunday, they will head to New Jersey to face Rutgers.
(Visited 152 times, 1 visits today)