Men's soccer wins Patriot League opener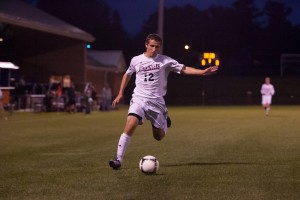 Chris McCree
Sports Editor
The men's soccer team opened up Patriot League play this past weekend with a 1-0 win at Lehigh and a 1-0 loss to St. Joseph's. Jesse Klug '16 scored the lone goal for the Bison in his first career Patriot League game, while Mike Lansing '16 recorded seven saves for his third shutout of the season.
"It was very important for us to win our first league game and to make sure that our first step was forward," Lansing said. "The Lehigh game was a scrappy game with lots of physical play and not too much pretty soccer was involved. We didn't play our game, but we managed to come away with a win."
Traveling to Bethlehem on Saturday, the Orange and Blue were forced to wait until Sunday to take on the Mountain Hawks after a sudden downpour drenched the field minutes before kickoff. The game quickly turned into a defensive battle as neither side could register a goal in the first half. Then, 10 minutes into the second half, Brendan Burgdorf '13 centered a ball across the box for Klug who placed it in goal for his second goal of the season.
For the game, the Mountain Hawks managed to outshoot the Bison 18-16, but Lansing and the Bison defense stood strong, extending their goalless streak to 381:07. The program record stands at 559:40 set during the 1983 season.
Against St Joseph's, the Orange and Blue fell victim to a late goal from the Hawks with less than 10 minutes remaining. The Bison amassed 23 shots for the game, but only managed to put two of them on target. Klug led the team with eight shots and Burgdorf had four.
"The game against St. Joe's was not a pretty one," Lansing said. "We went into the game thinking we had nothing to lose and the other team really came to play. Again, we did not play to our potential and St. Joe's took advantage."
Before the goal, the Bison managed to extend its shutout streak to 462:06 to earn the second longest streak in program history. The last goal that the team surrendered was against La Salle on Sept. 7.
The Bison will try to remain undefeated in league play tomorrow at American at 1 p.m.
(Visited 95 times, 1 visits today)