Football drops fifth game in a row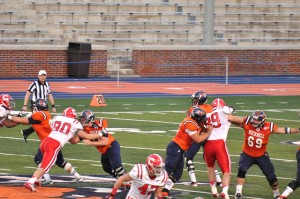 Eric Brod
Senior Writer
Coming off a hard fought loss to Holy Cross last week, the Bison were stifled by No. 21 Harvard as they dropped their fifth straight game 35-7.
Early on, the Orange and Blue defense proved stout against Harvard, forcing two punts and an interception on their first three possessions. An interception by Evan Byers '15 gave the possession to the Orange and Blue at the 12-yard line. Quarterback Brandon Wesley '14, after completing seven of his first 10 passes of the game for 79 yards, threw an interception in the end zone. With 3:01 left in the first quarter, the Crimson took the lead on a six-yard touchdown run.
Harvard was able to pull away in the second quarter by outscoring the Bison 21-0 and outgaining them on offense 237-21. The backbreaking play for the Bison came when a Harvard tight end caught a 20-yard pass, and ran for the touchdown, digging the Orange and Blue in a 28-0 halftime hole.
The Bison played much stronger in the second half, holding the Crimson to only a single touchdown. The offense finally broke through in the game's final minute when Wesley led the offense on a 10 play, 91-yard drive that ended in a one-yard touchdown run by Jeremiah Young '13.
"Our team continues to play hard at every position through the course of the game. Evan Byers continues to improve, as does Jordan Dudas ['15], and Matt Steinbeck ['15]," head coach Joe Susan said. "We need to eliminate turnovers and do a better job of catching the ball in our receiver group. We are bringing along more young players. In this league you cannot stay young very long."
Wesley finished the game 21-29 for 227 yards. Travis Friend '14, Charles Thompson '14, Tyler Smith '13 and Young contributed to 10 catches for 108 yards. Byers had an outstanding game with two interceptions.
The Bison rushing attack was stifled by the top-ranked rushing defense in the nation, gaining just 23 yards on 37 carries.
"We had some match-up issues with their front seven," Susan said. "Their front four is the best I have seen at this level. They play seven guys and keep the pressure on an opponent."
The Bison look to snap their five-game slide tomorrow when they travel to Bethlehem, Pa. to take on Patriot League rival Lehigh at 12:30 p.m.
"We have shown resilience as a team. We will work hard to put together an effective game plan against another ranked opponent," Susan said. "When this turns, it will stay turned."
(Visited 52 times, 1 visits today)