Homecoming packed with events for alumni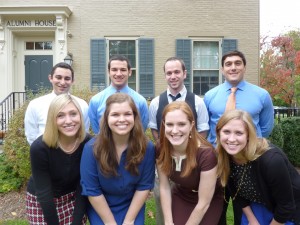 Brianna Marshall
Writer
Homecoming 2012 promises to be extremely entertaining for alumni as well as faculty and students. Campus has been buzzing with activity in preparation with the construction of the tent on the quad and other additions such as the "We Do" banners hanging on the windows of the Elaine Langone Center. With activities ranging from concerts to athletic events, there is sure to be something for everyone to enjoy this weekend.
While alumni-focused events with limited student attendance are a key component of Homecoming Weekend, there are many interesting opportunities for students. Uptown is hosting a concert featuring Vertical Horizon, famous for their 90's hit "Everything You Want," tonight at 9 p.m. Other musical events include a concert by Corey Harris tonight at 8 p.m. at the Campus Theatre and, for those who were lucky enough to win a ticket in the student drawing, Norah Jones will be performing in the Weis Center for the Performing Arts at 7:30 p.m. tonight.
Saturday is a fun-filled day of events starting with a conversation at 9 a.m. in the Weis Center for the Performing Arts between Jim Cramer, host of "Mad Money" and Walter Isaacson, bestselling author and biographer of Steve Jobs. A Q&A session with Ana Aguilera Silva '14, Mairead Smith '13 and Chris Spahr '13, led by President John Bravman, will follow. 
The University Celebration and Pre-Game Showcase, featuring the work of faculty and students across many academic disciplines, will be held at 11 a.m. at the Practice Field.  The Homecoming football game against Colgate will follow at 1 p.m. Also at 1 p.m. will be music, theatre and dance performances by students and faculty are being held in Natalie Davis Rooke Recital Hall. For those who are interested in a more interactive experience, an arboretum walking tour, led by Associate Professor of Geography Duane Griffin and Associate Professor of Biology Mark Spiro, will leave from the Bertrand Library at 2:30 p.m.
Although the campus has become well-aware of "the public launch of the largest fundraising campaign in Bucknell's history," as described by Bravman, Homecoming Weekend is a great way to promote campus involvement and highlight all the work students and faculty do every day. Bucknell Student Government (BSG) is among the many student organizations that are represented at these events.
"BSG is honored to be a part of the many wonderful activities and happenings of this special weekend. They recognize and appreciate how important this weekend is as it welcomes home Bucknellians and kicks off a campaign launch, which is incredibly important to Bucknell's future," said BSG advisor and Associate Dean of Students Kari Conrad.
(Visited 408 times, 1 visits today)