Biz Stone educates campus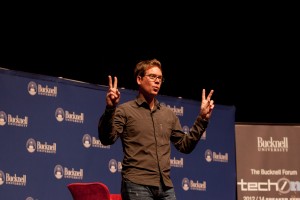 Daniel Park
Writer
Twitter co-founder Biz Stone came to the University to deliver an inspirational speech about his past and what he sacrificed to achieve success in modern society. He gave his lecture at the Weis Center for the Performing Arts on Oct. 23.
He started off with various jokes about his past life, making references to his family, and finally delved into more serious topics ranging from failure, opportunity, creativity, technology and empathy. Stone then questioned the concept of "what's next?"
The beginning of the event revolved around his past life, like how he had become obsessed with the idea of web design and how he first came to the idea of starting his own company that revolved around web design and blogging.
"Although everyone was criticizing our ideas and constantly told us it was dumb and a waste of time, we were out to have fun and constantly innovate," Stone said.
Despite being constantly put down for his ideas on designing a blogging website, he emphasized the point that the perspective of others should not influence every decision or action you decide to take.
"Twitter was to be not the triumph of technology, but the triumph for humanity. It definitely had a different motto than a company like Google, where technology was the resolution to all problems."
He made references to Google after the bizarre events he experienced during his visit to Google headquarters, such as an employee of Google recording every show on TV simultaneously.
The last thirty minutes or so was Q and A not only between the speaker and Biz Stone, but also the audience.
"Privacy and liberty … are people giving up privacy? If all information is digitized the ability to be anonymous is gone. Do you see this as a glass half full or half empty?" assistant professor of management Jordi Comas said.
"All of it is our choice. Technology in a sense makes us super humans capable of doing the incapable. Holistically, humanity is testing the boundaries of how much we should share. What is too much or too little? The point is, we are in control," Stone said.
Comas continued to ask questions on privacy issues like government involvement and the  extent that our freedom of speech holds.
Many other members of the campus community were also eager to ask questions about Stone's opinion on various social networking topics.
(Visited 54 times, 1 visits today)