Men's team wins one, loses one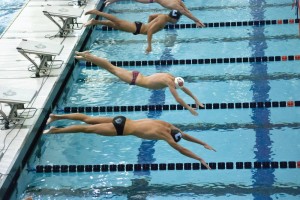 Billy Tyler
Contributing writer
The men's swimming and diving team saw career-best performances from Tyler Wenzel '16 and Mike Nicholson '14 this past weekend as the team split its double dual meet against American and Navy, beating American 196-98 while falling to Navy 187-108.
The diving competition on Nov. 2 featured very tough competition from both Navy and American. Stepping up to the challenge was Wenzel, who set school top marks on both the one meter and three meter boards. Wenzel came into the event knowing he, and the team as a whole, would need a solid performance to be competitive.
"I was nervous in the beginning, as Navy has a good reputation for their ability in water athletics," Wenzel said.
He was able to shake off his nerves and delivered a career best score of 245.3 on the one meter-board, earning him the sixth best performance in the school's history. This was followed up by a score of 245.55 on the three-meter board, gaining him third in the heat and seventh in the school's records.
"I just did what I could within my ability and was given confidence by the support of my family and my two teammates, who both dove very well this weekend," Wenzel said.
The swimmers, who competed on Nov. 3, were led by Nicholson, who won three out of the four individual events captured by the Bison. He finished first in the 200 breast, the 200 fly and the 200 IM by a combined total time of 5.06 seconds. The two-time All Patriot League swimmer was pleased not only with his performance, but also those of his teammates who stepped up to the tough competition, especially from Navy.
"We won four events and the events we didn't win we managed to get to the wall ahead of some of their other guys, which was what we had to do to prevent them from running away with the meet," Nicholson said.
The other individual win for the men's swimming team was earned by Ben Seketa '15. In addition to his victory in the 100 breast, Seketa finished fourth in the 200 breast and second only to Nicholson in the 200 IM. Some of the other top finishers for the Bison included Chris Ortiz '16 (third in 100 free, fifth in 200 free and seventh in 50 free) and Brian Phillips '16 (fifth in 1000 free and eighth in 500 free).
"We really emphasize making improvement from week to week and meet to meet at this point in the season and we definitely saw improvement in a number of areas from a number of people," head coach Dan Schinnerer said.
The next time the Bison take the water will be at the team's home invitational event on Nov. 16-18 in Kinney Natatorium.
(Visited 83 times, 1 visits today)