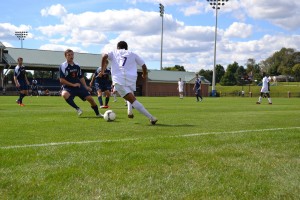 Chris McCree
Sports Editor
The men's soccer team qualified for the Patriot League Tournament last weekend, despite a devastating overtime loss to Lafayette on Nov. 3. With the game scoreless after 90 minutes of regulation, the Bison fell victim to a fluke of a goal just nine seconds into extra time. Though a disappointing result, the Orange and Blue maintained its playoff spot after a Colgate victory and a tie between Army and Lehigh prevented any team from climbing up the standings.
Story continues below advertisement
"When Lafayette scored in overtime, we all felt our season had just ended," head coach Brendan Nash said. "Since it happened on such a strange goal it was an emotional end to the game. Knowing we had no control over our postseason chances, it was a somber tailgate and bus ride home."
Coming into the game, the Bison knew all they needed was a tie to guarantee a bid into the playoffs. Both teams struggled to manufacture many good offensive opportunities with each side managing to record just seven shots in regulation. Goalie Mike Lansing '16 ended with three saves on the day.
In overtime, Lafayette sent a 50-50 ball forward towards the Bison goal and it took an unusual spin past Lansing to give the Leopards the 1-0 win. The Orange and Blue then had to wait the rest of the night to hear whether they would play in the postseason.
"Over the course of the season, the team has learned that even though soccer is a 90 minute game with very little scoring, each play throughout the game is very important," Nash said. "We must still improve on playing the game for the full 90 minutes, or 110 if overtime is required, this weekend."
The Orange and Blue closed out its regular season with a 7-7-5 record overall and 2-3-2 in the Patriot League. Despite winning just the two league games, the team has not lost a contest by more than a single goal.
As the fourth seed in the tournament, the Bison will go up against top-ranked American in the first round. The only time the two teams met in the regular season, American came away with the 1-0 victory.
"I think the loss will motivate us rather than deflate us," Nash said. "Our team has had some tough losses this year and we have needed to bounce back from each one. This will be the same situation."
The first round matchup will take place today at 11 a.m. in Washington D.C. Second seed Lafayette will take on Colgate later in the day, and the championship game is expected to be played on Nov. 11.
"Our confidence is still high because our team has experience and knows what it takes to win the tournament," Josh Plump '13 said. "As long as we show up to play and put together two complete games, we should be successful this weekend."
(Visited 69 times, 1 visits today)