Students race for a global cause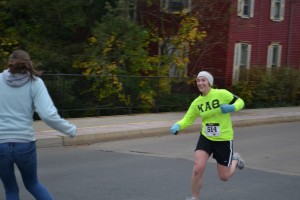 Kerong Kelly
Writer
The Bucknell Brigade held its third annual "Making it to Managua" 5k race in Lewisburg, Pa. on Nov. 4. The Bucknell Brigade was formed 13 years ago in order to help rebuild Nicaragua after Hurricane Mitch.
 "It was really cold out, but it was great to see so many people out supporting early in the morning," Jon Drouin '15 said.
At the event, there was coffee and doughnuts for the supporters and racers, and there were smaller goods for sale to raise money for Nicaragua.
"The 5k is a great way for the Brigade to raise money and awareness for our upcoming trip to Nicaragua. We are so excited to go and we're glad we can share some of this excitement with the community," Kasha Scott '14 said.
The slogan "Making it to Managua: 2073 miles" is representative of the distance to Nicaragua.
"I'd say the race was definitely a success. We raised around $1,500 for the brigade's work in Nicaragua. I think I speak for everyone involved with the brigade when I say that we really appreciate everyone coming out in the cold to help us raise money," Chloe Drennen '15 said.
(Visited 73 times, 1 visits today)