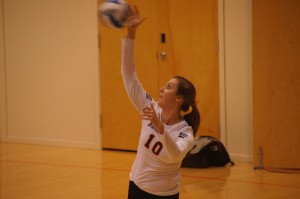 Katherine Harris
Writer
The women's volleyball team played strong but fell short of victory in its last matches of the season against Navy and American.
Story continues below advertisement
"I think as a whole we came out flat both nights, and sadly there was no energy or will to win. It was a disappointing end to the season, but it just was not our year," Morgan Mientus '14 said. "My individual performance was a letdown, and it was clear that both Navy and American planned to shut me down. I wish we could have won both games since it was our last weekend, but both teams were certainly more hungry for the wins and definitely deserved them."
The Bison traveled to Annapolis, Md. on Nov. 9 to take on a Navy team fighting for a place in the postseason. The Orange and Blue lost the first set, but quickly battled back to go up 2-1 on the day. The comeback effort was not enough against Navy's powerful offense, which fought back to eventually win 3-2.
Kat Tauscher '13 finished with an impressive 28 assists and was backed up by Meghan Wentzel '16 who recorded 20. Mientus and Kristen Titley '14 both posted double-doubles, as Mientus had 14 kills and 11 digs, while Titley had 10 kills and 10 digs on the day. Leylin Marroquin '14 also chipped in with 25 digs on defense, and Karen Campbell '16 added two blocks.
"I was really happy with how we played Friday, we came out kind of slow but we really picked it up and gave Navy a tough match," Titley said.
The Orange and Blue then traveled to American the next day for their last game of the season. It turned out to be a tough match, ending in a 3-0 loss for the Bison. Tauscher and Kebah Edoho '13 both performed strongly in their last match for the Orange and Blue. Tauscher recorded a double-double with her 12 assists and 10 digs, while Edoho contributed five kills and three blocks. Campbell and Hannah Young '14 also backed up Edoho with three blocks each, and Marroquin continued her strong weekend with 10 digs for the Bison.
"Saturday we started out slow again, but in the third set we really rallied and I was proud of the team for getting it together to give the seniors a good ending to their four years," Titley said. "For me personally, I just really wanted to go out and give it my all and leave everything I had on the court since it was our last weekend of the season."
(Visited 178 times, 1 visits today)