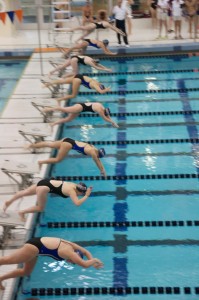 Cooper Mead
Writer
The women's swimming and diving team posted a winning performance against Lafayette on Nov. 10 at Kinney Natatorium. Nine different Bison won at least one event, and the team won 14 of 16 events, propelling them to a 194.5-103.5 victory against the Leopards. The Bison moved to 2-3 overall and 2-1 versus Patriot League foes.
Story continues below advertisement
Ashley Henderson '16 won both the 100 breast and the 200 backstroke, Lauren Perry '15 won the 100 freestyle and the 100 fly and Katie Hetherington '15 won both the one-meter diving and the three-meter diving. Their performances were crucial to the Bison's success against Lafayette. Henderson was followed by teammate Emily Norton '15 in the 100 breast, and her 2:07.76 seconds time in the 200 backstroke bested teammate Kristen Purdy '14 by 2.58 seconds.
"We had a fun meet this weekend, and it was great to finally be able to compete at our own pool. I'm really looking forward to see what we can do this weekend at our invitational," Perry said.
On the diving front, the Bison claimed the top five spots in the two diving competitions. Hetherington (a school record holder) was trailed by Tori Molchany '15 in second and Tara Boyle '15 in third off of the one-meter board. Boyle and Molchany finished second and third off of the three-meter board, respectively.
Other notable performances included first place for Melissa Besman '14 in the 1,000 freestyle, Stephanie Koziol '15 in the 200 freestyle, Purdy in the 100 fly, Norton in the 200 breast and Kelly Pontecorvo '14 in the 500 freestyle. In addition, the Bison claimed both relays as Purdy, Jennifer Brennan '14, Morgan Oxley '13 and Kaitlyn Utkewicz '14 won the 200 medley relay. Additionally, Perry, Utkewicz, Emily Wright '14 and Elizabeth Porcellio '13 won the 400 free relay.
"Our team had a lot of fun this past weekend. It was our first home meet and many of us got to swim events we don't normally swim," Purdy said. "It's amazing how much we have improved since the beginning of the season, and this past weekend we really got to see the versatility our team has. Our team has a lot of energy and potential this year. I'm looking forward to the meet this weekend and excited to see what the rest of the season holds."
Coming off a win against Lafayette, the Bison will hope to post another strong showing as they host the Bucknell Invitational from Nov. 16-18.
(Visited 110 times, 1 visits today)