Football falls at Georgetown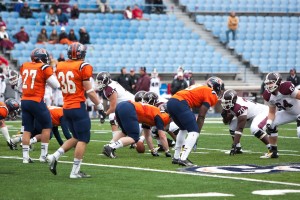 Alex Wagner
Sports Editor
Despite a good defensive showing and a couple of late chances to tie the game, the Bison football team fell to Georgetown 10-3 in Washington, D.C. The Bison now have an overall record of 2-8 (0-5 in the Patriot League) with one game left in the season. The Orange and Blue, coming off of a close win against Fordham, were unable to get very much going on offense throughout the game. They were held to a season-low 168 yards of total offense and were 0-11 on third down attempts, while Georgetown had 356 total yards and went 6-16 on third downs.
Even though they managed just 48 yards of offense in the first half, the Bison went into halftime only down 10 points after Georgetown kicked a 20-yard field goal and threw a 28-yard touchdown pass.
With about 12 minutes left in the game, things looked like they were starting to go the Bison's way. The tide began to turn when safety Matthew Steinbeck '15 intercepted a Georgetown pass and returned it 39 yards, his sixth pick of the year. The ensuing drive saw quarterback Brandon Wesley '14 complete a touchdown pass to wide receiver Josh Brake '15. Unfortunately, the play was called back on a holding penalty, and the Orange and Blue had to settle for three points after a 38-yard field goal from Sean Cobelli '14.
The Bison defense stood strong on the next drive, forcing Georgetown to punt with about four minutes left to play. As the Bison drove near midfield, they were faced with a crucial fourth-down situation. Although Wesley connected on a pass to Brake for the first down, Brake was ruled out of bounds and the Orange and Blue turned the ball over. From there, Georgetown only needed one first down to seal the game.
Wesley ended the game completing 8 of 13 pass attempts for 56 yards, while running back Tyler Smith '13 finished with 37 yards on 14 carries. Smith also had 39 yards in the air after he completed a halfback option pass to Brake that put the Bison on the 10-yard line. Brake led all Bison receivers with three catches for 64 yards.
Linebacker Evan Byers '15 had another great performance for the Orange and Blue defense, racking up a career high-tying 12 tackles. Patrick Joyce '13, Samuel Oyekoya '13 and Tracey Smith '14 also contributed to the defensive effort by registering one sack each.
The Bison will look to close their 2012 campaign on a high note tomorrow when they take on Bryant at Christy Mathewson-Memorial Stadium at 1 p.m.
(Visited 74 times, 1 visits today)