University welcomes new multicultural sorority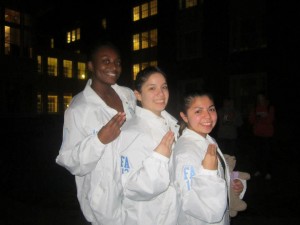 By Siobhan Murray
Senior Writer
Mu Sigma Upsilon Sorority, Inc., the first multicultural sorority in the nation, takes pride in its foundation. More specifically, it takes pride in colonizing here at the University. Recently, the University welcomed Mu Sigma Upsilon to campus with its formal probate, or "coming out" ceremony, that took place earlier in November.
Yessica Martinez '14, president of the University's chapter of Mu Sigma Upsilon was more than pleased with the response to their formal initiation ceremony.
"We were very nervous because we had practiced for some time and we wanted it to go perfect," Martinez said. "We were very surprised with the crowd. It was very comforting to see that people were interested and curious in our organization and came out to witness our initiation. We have received positive comments since, and we appreciate everyone who has welcomed us to campus."
As a multicultural sorority, Mu Sigma Upsilon does not exclude women because of their background.
"Everyone is different and that is what we embody. Our motto resembles exactly that: 'Mujeres Siempre Unidas' ('Women Always United'). Our Founding Mothers decided to create this sisterhood as a support system for all women, 'a student organization that celebrates diversity and fosters progress,'" Martinez said.
These five women founded Mu Sigma Upsilon, with the intent to unify women while observing their differences.
"We will follow through with what our Founding Mothers intended this sisterhood to be. We are excited to grow as a strong sisterhood and showcase all we have to offer to our community," Martinez said. "As we do not fall under the Panhellenic Council, we do not participate in Rush, so we have no incorporation with formal recruitment. Instead, our interests will be participating in an orientation process. We go more in details about our process at our Ladies Night, and we encourage all those women who are interested to attend … These sessions will be advertised, so just be on the lookout. If there are any questions, interests can contact Angel Crockett (acc020)."
(Visited 543 times, 1 visits today)