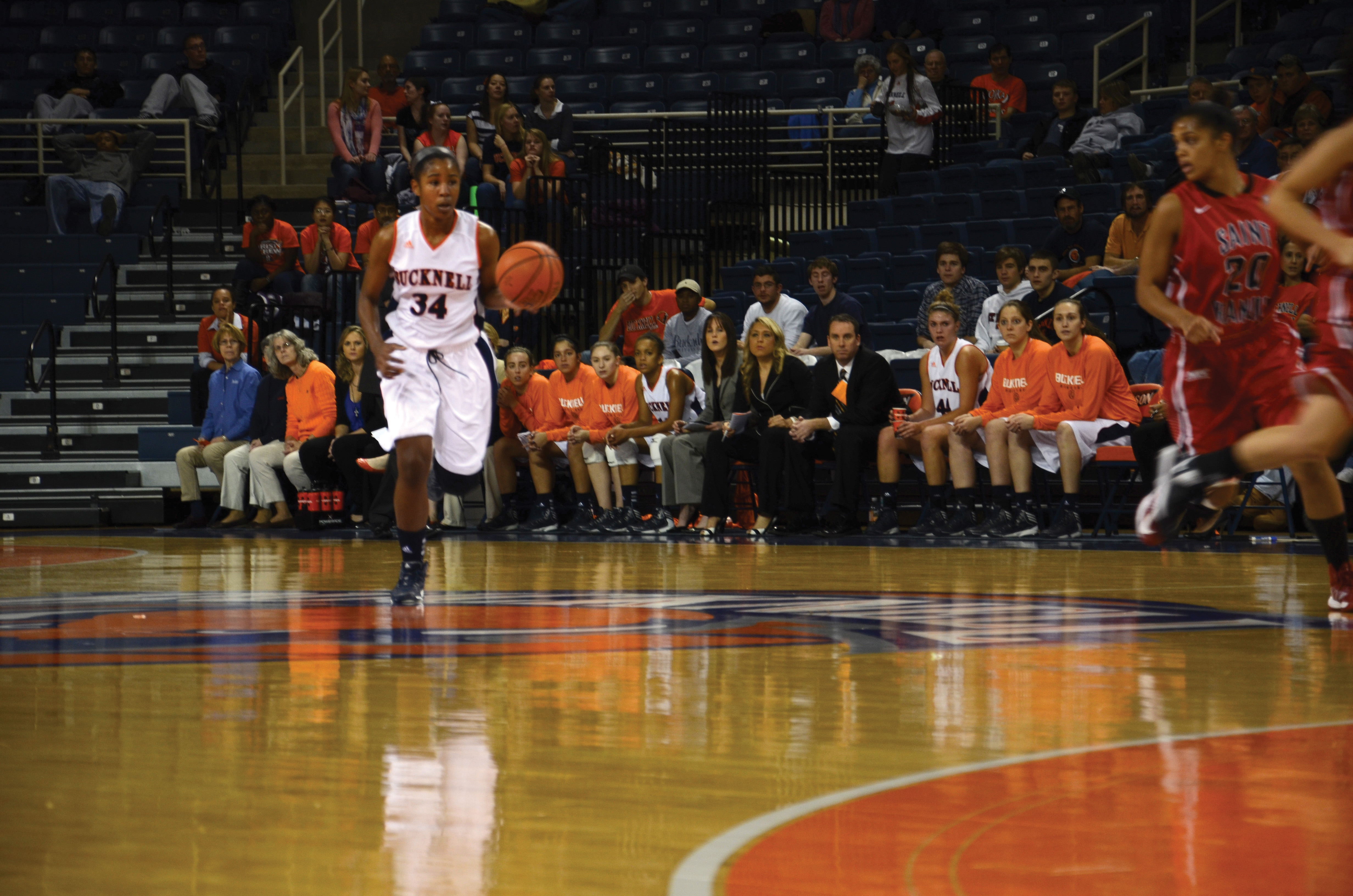 Ajan Caneda
Senior Writer
On Jan. 23, the Bison won their third consecutive game in convincing fashion, defeating Lehigh 53-37 in Bethlehem to improve to 12-7 overall and 3-1 in conference play. Shelby Romine '14 finished with 18 points and six rebounds, while Alyssa Dunn '13 scored 13 points. The Orange and Blue held Lehigh to a .207 shooting percentage, the lowest by an opponent this season. They have now defeated Lehigh in two of their last three meetings.
After forward Audrey Dotson '15 made a game-winning jumper against Colgate on Jan. 16, the Bison got another clutch performance from Lindsay Horbatuck '13 who made two free throws with two seconds to go, lifting the Orange and Blue to a 50-49 win at Lafayette on Jan. 19.
Story continues below advertisement
"I thought our team handled their run with poise, especially in the last minute. They were knocking down shots, but we stayed composed and were able to finish it," Romine said. "The past two games have been great learning experiences on how to handle pressure situations."
The Orange and Blue ended the first half with a 26-19 lead as they locked the Leopards down defensively, holding them to 20.0 percent from the field (7-35). It was 17-17 at the 4:08 mark before the Bison scored nine unanswered points. Alyssa Dunn '13, Katherine Harris '15 and Horbatuck all contributed to the run before the Leopards answered with two free throws to end the half.
A Romine three-pointer gave the Bison their first double-digit lead of the game with 15:29 to go. Back-to-back jumpers from Harris and Romine bolstered the lead to 40-25, the largest of the game. Unfortunately, Lafayette held the Orange and Blue without a field goal for over seven minutes and trimmed the deficit to four with 5:37 to go. Dotson and Romine made consecutive baskets to stifle the Leopard run, but the lead was eventually cut to two with under a minute left.
After Romine missed the back end of a one-and-one, Lafayette had a chance to tie or win the game, but Horbatuck came away with a steal and forced the Leopards to foul. She hit both free throws to make it a two-possession game and seal the victory.
"When thinking back about the game, I think that the team kept very composed throughout the last few minutes of the game," Horbatuck said. "Part of our identity this season is our defense and we knew that in the last few minutes of the game, we were going to win the game by playing our defense and shutting them down."
Horbatuck finished the game with 11 points and seven rebounds. Romine had 14 points and seven rebounds, while Dotson ended the night with a double-double of 10 points and 12 rebounds.
"Personally, what helped me keep my composure during the Lafayette game was to remind myself that there was a reason we were up the whole game and that we deserved to win," Dotson said. "This year our team has really tried to shift our mentality so that we go out and win instead of going out and 'not lose.'"
The Bison's next contest will be against Holy Cross tomorrow at 2 p.m. in Sojka Pavilion.
(Visited 38 times, 1 visits today)