Alumna offers commentary on the 2013 Inauguration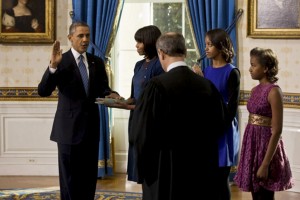 Note – Sara  is a Bucknell alum who wanted to contribute an article she wrote for her pre-grad program to The Bucknellian. She said that some of the people she talked to at Inauguration were not willing to give their last names, so that is why some quotes only have first names associated with them.
As an appreciative family disappears towards the Capitol, waving, Maurice Clifton turns to look at the National Mall–a sea of colorful hats, puffy coats, American flags and smiles. Clifton, a Presidential Inaugural Committee volunteer, has been answering questions and giving directions from the corner of 14th Street Northwest and Madison Drive since before sunrise. He arrived at 4:45 a.m.
"The crowds have been steady like this for hours," Clifton said. "I donated to the campaign and I volunteered because I wanted to be a part of the event."
Clifton was among the one million people who flooded the District on Jan. 21 to experience the 57th Presidential Inauguration.
Attendance decreased substantially from President Barack Obama's first inaugural ceremony four years prior, at which the crowd was roughly double the size. However, the energy and excitement that characterized the city on Monday was not unnoticed.
Aislinn McMillan, 17, says she felt proud to witness this patriotism firsthand, and most enjoyed watching "the crowd on the jumbotrons" and "cheering with [her] sister and all the people surrounding [them]."
"You could see just how many people had come out to see the inauguration, and support Obama and the abundance of American flags waving," McMillan said.
In addition to guests with tickets, who stood in front of the Capitol in reserved sections, masses of people gathered on the muddy lawn farther back, in the area open to the general public.
Four-year-old Imani, who was born just days before Obama's first inauguration, watched one of the large television screens attentively from this area of the Mall, as the 44th President was sworn into office for a second term.
"We came to see President Obama," Imani said, clapping when he appeared on the screen.
According to Imani's mother, she [Imani] had been "talking about it for over a month."
Imani shared this moment with people from across the country–and the world–as Obama delivered his inaugural address.
"With common effort and common purpose, with passion and dedication, let us answer the call of history and carry into an uncertain future that precious light of freedom," Obama said.
The inaugural program also included musical performances from James Taylor, Kelly Clarkson and Beyoncé, a poem from Richard Blanco and other noteworthy speakers.
Civil rights leader Myrlie Evers-Williams led the inaugural invocation, on a historic day also designated to honor Martin Luther King, Jr. As she spoke, the crowd became silent, engrossed in her words.
Seven-year-old Oliver, lifting the hat that fell over his eyes, was visibly fascinated by the overall experience.
"We came for him," Shana, Oliver's mother, said while holding her son's hand. "I wanted to teach him about democracy and give him some memories. It's a wonderful opportunity."
This was a common sentiment, especially for people who had not previously been to an inauguration.
"I have grown up in D.C. but felt as though I had never taken advantage of the history that takes place here," McMillan said. "I will always remember, and can now say, that I was there to see our president take office."
During the parade, the President and First Lady emerged from their car and joined the procession, waving to the fervent people who lined both sides of Pennsylvania Avenue.
"I wanted to see history in the making and share it with people who were enthusiastic and passionate about their president and their nation," McMillan said. "I am so glad I decided to go. It made me feel a part of something."
(Visited 67 times, 1 visits today)