Women's basketball splits against rivals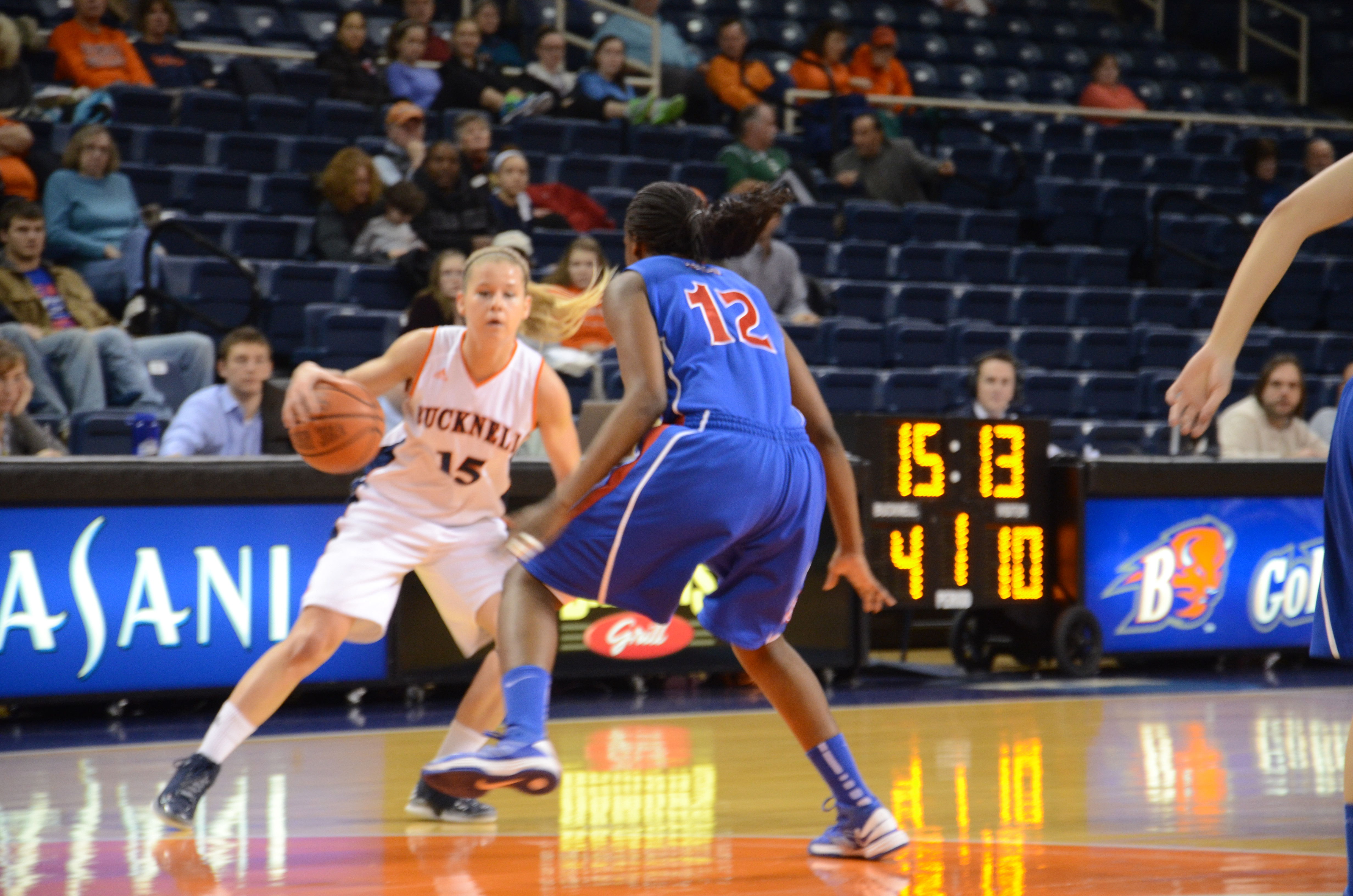 Ajan Caneda
Senior Writer
Although the women's basketball team put up a valiant second half effort, it was not enough to negate American's first half blitz, as the Bison fell 66-58 in Sojka Pavilion. The loss snapped the Orange and Blue's four-game winning streak, which was topped off by a narrow 62-59 home victory against Holy Cross. They dropped to 13-8 overall with a 4-2 record in conference play.
Against Holy Cross, the Bison overcame a 14-point second half deficit to escape with the win. With 7:32 left in the game, the Bison staged a 20-3 run resulting from a strong effort on the defensive side of the court.
"We stayed positive by doing what we knew we could do and not worrying about what already happened," forward Felicia Mgbada '13 said. "As a senior, I want more than anything for my team to be successful and I am willing to do what it takes to make that happen."
Although Holy Cross maintained a slim edge in the first half, the Orange and Blue gained their first lead of the game on a jumper by Shelby Romine '14 with 7:15 to go in the half. Holy Cross eventually pushed its lead up to six points and held the Bison without a field goal for over three minutes. The half ended on a Crusaders jumper that gave them a 30-24 lead at the break.
"We knew going into the second half that we had to pick up our energy, and although it took us a while to play like we normally do, we finally got it together to pull out the win," Audrey Dotson '15 said.
After falling behind by 14 points, Dotson scored eight points en route to a 14-0 Bison run. Mgbada scored four of her 11 points on that run. Holy Cross answered back with a three-pointer at the 2:05 mark to take back the lead, but Katherine Harris '15 countered with a three of her own to even the score.
The Bison continued displaying their stout defense, as Alyssa Dunn '13 made a key block with 46 seconds left. Mgbada was eventually fouled and made two free throws to make it a two-point game. After another defensive stop, Holy Cross fouled Lindsay Horbatuck '13. She made one of two free throws to give the Bison a 62-59 lead that would hold up after the Crusaders missed a potential game-tying three pointer at the buzzer.
"I think our increase in pressure on the defensive end helped us gain the momentum to win that game. Once we started playing defense and rebounding like we normally do, our offense started to really pick up," Dotson said.
Dotson finished the game with 14 points and six rebounds. Dunn scored 11 points, while Horbatuck grabbed 13 rebounds.
"In conference, games are always closer no matter what the rankings of the two teams, and I think the fact that we've been able to stay so composed in those situations in the past few games was a major factor in our comeback on Saturday," Harris said.
In the game against American, the Bison fell behind 23-4 early on but were able to cut the lead to 54-53. Unfortunately, the Eagles scored 21 points off 24 Bison turnovers. Romine scored 23 points, while Dotson had a double-double of 12 points and 10 rebounds. Horbatuck pulled down 16 of the team's 42 rebounds.
The Orange and Blue will travel to Annapolis, Md. Saturday night to face Navy.
(Visited 41 times, 1 visits today)