Basketball breezes by Army, Colgate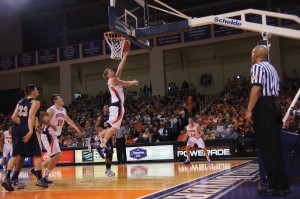 Eric Brod
Senior Writer
The Orange and Blue held off Colgate for a 69-61 victory on Feb. 13 after a 60-58 road victory against Army on Feb. 9. With the two wins, the Bison improved to 21-4 overall, and 8-1 in league play.
Mike Muscala '13 lead the Bison against Colgate, recording his 18th double-double of the season, posting 27 points and 12 rebounds. Muscala's 10th rebound of the night was the 1,000th of his collegiate career, making him the second player in program history to accomplish this feat.
The Bison jumped to an early 9-0 lead thanks to five quick points from guard Ryan Hill '14. The Raiders then cut the lead to 20-18 in the first half. The Bison responded with a three-pointer by Bryson Johnson '13, giving him three of his 12 points on the night. Muscala and Cameron Ayers '14 made a pair of baskets to extend the lead to 34-22, and the Orange and Blue took a 34-23 lead at half.
Colgate started the second half cutting the Bison lead to 40-34. Joe Willman '13 responded with a clutch jumper, but the Raiders eventually cut the lead down to 49-47. Muscala then scored 20 of his 27 points to help keep control of the game. Ayers helped put the game away, extending the lead to 62-54 with 3:58 to play.
Against Army, the Bison defense held the usually fast-paced Black Knight attack to 38.2 percent shooting and 12 points below their season average. The Orange and Blue were led by Ayers, who registered 19 points.
"The key for me was to be aggressive early and attack them from the start. My teammates did a good job of finding me and getting me open shots," Ayers said. "I thought it was a total team effort to pull out a tough win like that on the road."
Johnson also heavily contributed, scoring 17 points to break the Patriot League record for three-point baskets in a career. Johnson continued his sensational all-around play, tallying eight rebounds and six assists. Muscala came away with 12 points and 10 rebounds for his 17th double-double on the season.
"Army is always a tough team to play against, especially on their home floor. We knew it would be a battle heading into the game but Bryson and Cam[eron] hit some big shots in the second half that really helped us out," Muscala said. "I thought we forced them to make tough shots for the most part, but also made some defensive errors that allowed them to get back in the game."
The Orange and Blue took a 25-21 halftime lead into the locker room. The Bison opened up a 47-36 advantage with 8:46 left in the contest, until Army closed the gap to 49-45. Ayers responded with a three to extend lead back to seven at 52-45. With 2:16 remaining, the Orange and Blue had a 60-54 lead. Army pulled the score to 60-58 with 1:27 left. Both teams missed opportunities on the offensive end in the final minute, which ended with Ryan Frazier '16 forcing a touch game-tying attempt by Army that hit back iron to secure the Bison victory.
"I thought we did a really good job of contesting their shooters and our guards did a great job of getting through ball screens," Muscala said. "They got hot late in the second half but for the most part we played well defensively."
"I think these tight games have definitely proved to us that we have to play all 40 minutes and play until the end," Ayers said. "We are able to learn from these situations win or lose and grow from them for the future."
The team returns to action Saturday when they travel to Easton, Pa. to take on league rival Lafayette. Tip-off is scheduled for 2 p.m.
(Visited 75 times, 1 visits today)