Campus Theatre continues to thrive after renovation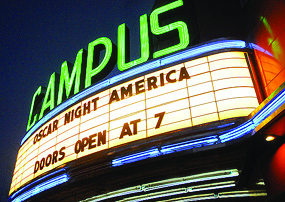 The Campus Theatre Continues to Thrive
Kerong Kelly
Writer
Almost a year and a half after its re-opening, the Campus Theatre serves as a national example of successful town-University partnership. In January 2011, the University purchased the Campus Theatre. It leases the building back to the not-for-profit organization, The Campus Theatre, Ltd., for $1 a year. The theater, first built in 1941, maintains its art deco murals and unique light fixtures. The Campus Theatre is one of the last single screen art deco theaters in the country and continues to function as a source of entertainment and learning for those of the Lewisburg and University community.
"This partnership, with Bucknell as building owner and The Campus Theatre, Ltd. as administrator and operator, has allowed the doors of this beautiful and historic movie house to not only stay open, but to welcome the Bucknell, Lewisburg and surrounding communities to enjoy diverse film programming not available anywhere else in this region–featuring a healthy balance of popular, fine art and independent films that are culturally relevant and bring understanding to contemporary concerns,"  said Jessica Paquin, director of fundraising and outreach for the Campus Theatre.

In addition to serving members of the community, the Theatre provides University students with the ability to attend movies for classes as well as for recreational purposes. The Campus Theatre has also proved to be a beneficial resource for professors in different University departments.
"The theatre hasn't changed my ability to show films so much as it has changed what films I screen," said Amanda Keeler, visiting assistant professor of English said. "Since Bucknell pays the rights for public exhibition, the films are free and open to the public. Over the last four semesters I have paid attention to which films bring in the most people and have chosen future screenings accordingly. I don't want to screen the same films every semester. I would rather pick 10 different films each year so that there is always something playing at the Theatre that has not screened previously. The Theatre allows us to show films in the space in which they were designed to be screened and helps us recreate the experience of seeing these films as if they had just been released theatrically."
According to Rebecca Willoughby, lecturer of English, the benefits provided by the Campus Theatre relate to the group experience, as well as to the experience that unfolds in such a culturally and historically prevalent location.
"The Campus Theatre is a truly unique and wonderful resource for students and faculty at Bucknell," Willoughby said. "In addition to the building being literally a piece of history not to be found many other places in the US, it provides a social and cultural center for the University and the community, as well as allowing students to view films for some courses in Film and Media Studies in an authentic movie-watching atmosphere. Especially since audience responses are such a part of studying film, it's a great advantage to be able to screen course films in a darkened Theatre in a group, instead of each student watching films alone in their dorm room on a computer screen."
"The Board and Staff of The Campus Theatre, Ltd. are grateful to Bucknell for their stewardship and support of this vital Market Street anchor," Paquin said.
(Visited 62 times, 1 visits today)