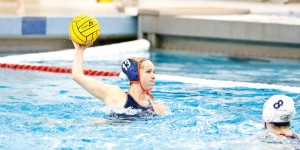 Lauren Boone
Staff Writer
The Orange and Blue kicked off their season this past weekend at the Bison Invitational, where the Bison played in five matches against Mercyhurst, George Washington, Brown, Villanova and Marist. The Orange and Blue ended the weekend's contests with a record of 3-2.
Story continues below advertisement
The Bison launched the weekend competition and their season with a 14-5 win over Mercyhurst. Highlight players of the game were Hannah Sunday '16, Krystle Morgan '13 and Julianne Valdes '14. Sunday led the Bison with five goals, while Morgan and Valdes contributed three goals each. The Bison led the Lakers 7-1 at halftime, maintaining a lead of at least six goals throughout the second half.
Against George Washington, the Orange and Blue fell 10-9. The Bison outscored the Colonials 6-3 during the second half, but eventually gave way to George Washington's offensive pressure. Sunday and Valdes each posted three goals for the Orange and the Blue in the loss.
The Bison then rebounded to defeat Brown 10-9. With the score tied 9-9 and just 1:36 left to play, Taylor Barnett '15 scored the game-winning goal. To secure the victory, Rena Heim '14 saved a shot on goal with less than a minute to go.
The Orange and Blue added to their wins with a 9-4 victory over Villanova. Sunday scored four goals, assisting in an 8-0 lead during the game. This win brought the Bison's weekend record thus far to 3-1.
The Bison lost their final match of the weekend 9-6 to Marist. Entering the fourth quarter, the Bison trailed by only one goal. Within just under two minutes, the Red Foxes posted three goals against the Bison to put the match out of reach.
"This weekend was a great start to our season; it was a highly anticipated weekend because we had been practicing for so long. I think that the team played well together. We made a lot of mistakes but we now know exactly what we need to focus on in practice," Sunday said.
After the opening weekend's competition, the Bison will be back in action against Harvard and George Washington on March 2 and 3 .
(Visited 38 times, 1 visits today)