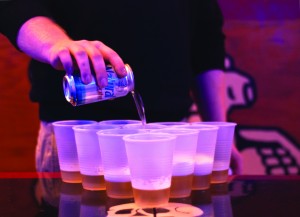 Increase in Student Hospitalizations
Kerong Kelly
Alcohol intoxication is responsible for a steep increase in the number of student hospitalizations, including eight hospitalizations in the first week of the Spring semester alone. As of Feb. 19, there have been 17 hospitalizations. The drastic increase has caused concern among members of the University administration.
Story continues below advertisement
As part of an initiative to inform students on the increase of alcohol abuse, pamphlets with information regarding the recent numbers of hospitalizations were placed in each student's mailbox.
A committee called the Learning Collaborative for High-Risk Drinking, which communicates with other universities in order to address the problem, includes members from the Communications Department, Psychological Services, Fraternity and Sorority Affairs, Student Activities, Public Safety, faculty, staff and students. The committee works to educate the student body and hopefully cut down on the number of hospitalizations as a result of intoxication.
Student opinions of the University's initiatives are mixed.
"To some extent the university might need to look at their own procedures. It's not like the students are any different," Tom Lukow '16 said.
"It's good that the University is trying to cut back on dangerous drinking but having Public Safety walk around the halls more frequently isn't helping anything," Ivanna Bihun '16 said.
A reason for concern pertains to the recent incidents of inappropriate behavior exhibited by students toward the Evangelical Community Hospital staff. One specific case in particular involving a student and a member of the nursing staff is currently being handled by the Buffalo Valley Regional State Police.
University administration has stressed that keeping the student body aware of such incidents is a priority.
"We're trying to get the word out that these are what our concerns are on campus. We want to engage students in initiatives that they think will be effective," Dean of Students Susan Lantz said.
(Visited 133 times, 1 visits today)