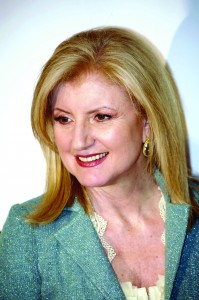 Kerong Kelly

Arianna Huffington, president and editor-in-chief of the Huffington Post Media Group, addressed members of the campus community regarding the impact technology has had on society thus far on Feb. 19. 
In 2005, Huffington launched The Huffington Post as a news and blog site. Huffington is the author of 13 books, some of which include the New York Times best-seller "Pigs at the Trough: How Corporate Greed and Political Corruption are Undermining America" and "Right is Wrong: How the Lunatic Fringe Hijacked America, Shredded the Constitution and Made Us All Less Safe."
Story continues below advertisement
As the final speaker of the "tech/no" spring series, Huffington spoke about the positive and negative aspects of social media. A mogul in the world of information and technology, Huffington recognized the change from passive consumption of news media to a world where "news is about participating and engaging." She was adamant that the Internet is a way for people to engage themselves in activities and causes that bring meaning to their lives.
Despite her place on the cutting edge of the media landscape, Huffington placed emphasis on the idea that it is important to take a break from technology. She spoke about popular addiction to technology and the constant need for communication. Huffington then in turn said how technology is causing people unnecessary stress. Huffington spoke about the incorporation of "nap rooms" which have been a popular way that people in the office can detach themselves from the mobile and hyper connected world.
"Humorous, engaged and intelligent, Arianna Huffington warned us of our growing dependence on technology, and in order to become healthier, urged us to disconnect from it whenever possible. Coming from a media giant like herself, you must take this advice to heart," Chris Schwake '16 said.
Huffington also pitched the Huffington Post's newest mobile application called "GPS for the Soul," which enables the user to make healthier choices and find a way to disconnect in the modern world.
After she finished speaking, students and members of the surrounding Lewisburg community asked questions regarding ways in which technology will change in the future and how to bring a component of personal meaning into the equation.
(Visited 65 times, 1 visits today)