Water polo drops two on road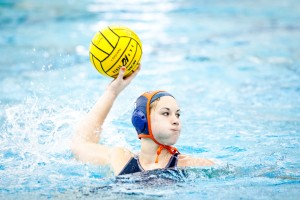 Billy Tyler
Assistant Sports Editor
The women's water polo team faced two tough opponents this past weekend in the team's final matches before Spring Break. Despite their strong efforts, the Bison were unable to come away with a victory in either match, losing 13-9 to Harvard on March 2 and 11-3 to George Washington on March 3.
Against Harvard, the Bison came out strong in a back and forth battle. After a thrilling first half, the score was tied 5-5 with neither team seeming to have the advantage. As the second half began, Harvard took the advantage and rode an 8-4 second half to the victory. The Bison still saw several great performances from key players. In goal, Rena Heim '14 had 10 saves, which is her fourth double-digit save game of the season. The nine goals scored by the Orange and Blue came from seven different players, with Stephanie Ovalle '14 and Krystle Morgan '13 leading the offense with two goals apiece. Julianne Valdes '14, Mackenzie Ferry '14, Tara Murao '13, Hannah Sunday '16 and Barbara Peterson '15 also scored individual goals against Harvard.
After the tough loss, the Bison looked to record a win against conference foe George Washington and repeat their solid, balanced team effort from the day before. Unfortunately, this did not happen as George Washington had an early 4-2 lead after the first quarter and were able to maintain it until the end of the match. After the two goals in the first quarter, the Bison were unable to score again until they managed their third and final goal in the fourth quarter, while George Washington's offense took off with seven more goals to put the match out of reach.
With these losses, the Bison drop to 3-4 on the season, with a 1-2 CWPA Southern Division Record. The team will now prepare for its 11-game Spring Break trip to California, which will begin at the Cal State Bakersfield Roadrunner Invitational.
(Visited 48 times, 1 visits today)