Greek life coordinates efforts to stop assault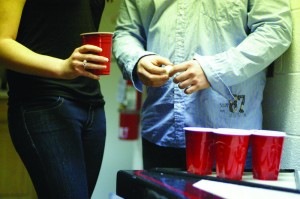 By Courtney Bottazzi
Writer
As the University confronts the issue of sexual violence, Kevin Foster, assistant director of Residential Education for fraternity affairs, has been working closely with the Interfraternity Council (IFC) to take steps in creating a safer environment for students.
Since Greek life is a significant part of the University's social life, fraternity members run the risk of having a sexual assault occur in a Greek-oriented house, regardless of whether perpetrators are members of the house, Foster said.
"There is a challenge that organization[s] face when something bad happens as a result of one of their members. From the outside, few people see it as an individual problem. Instead, a majority of people will look at the entire group or even the system to blame," Foster said.
While Foster said this may not be fair, he still believes that fraternity and sorority members take an oath to uphold certain values and principles. "As a result, they are agreeing to be held to a higher standard and with that can come more scrutiny," Foster said.
Many fraternities have their own policies regarding sexual assault.
"Most fraternities have a strong policy against brothers who commit and are found guilty of sexual assaults and handle the matters internally, which lead to punishments including suspensions and expulsions from their organizations," said Eric Weiss '11, Interfraternity Council President.
Revisiting this oath in everyday life is what binds fraternity members to each other as well as this higher standard.
"When a person takes an oath, that solidifies their commitment to that organization. While the language that each organization may use for an individual might vary, the ideas are the same," Foster said. "There isn't a weekend pass, there are no holidays or vacations from their oath. So I believe brothers at all times should be holding each other accountable."
Sexual crime may create a paradox for members of a fraternity: Do you sever ties with a person who is considered a criminal while they are simultaneously referred to as your brother?
Foster believes that fraternities should hold their members accountable according to the organization's by-laws and constitution. At the very least, he said, a member who commits sexual assault should be removed from the organization.
"In my mind, fraternities should have a zero-tolerance policy towards this type of action," Foster said. "At a recent IFC meeting, all the fraternity presidents signed the 'InterFraternity Council Sexual Assault Declaration.' This was created by the IFC to emphasize just that: they have zero-tolerance for this type of behavior."
Weiss is committed to making fraternity houses the safest places on campus.
"As president of the IFC, I commit all fraternities to a zero-tolerance policy regarding sexual assaults. By signing the sexual assault declaration, fraternities agree that events inside a fraternity house will not only affect individual brothers but the fraternity at large," he said.
In addition to the "InterFraternity Council Sexual Assault Declaration," Foster and the IFC are working together to bring awareness of sexual violence to the entire campus, Greek and non-Greek. Some fraternities have been in contact with the Women's Resource Center (WRC). The IFC is also working with the WRC to bring a speaker to campus.
"I think the challenge is educating individuals about safe and responsible behavior.  There are many resources and people on campus who are out there and want to make sure that students are making informed and safe decisions," Foster said.
Weiss said that fraternities are working towards a solution to the alleged problem on campus.
"Many fraternities have on their own gone out to educate their own members about sexual assault including risk management seminars and fraternity's personally funding speakers," he said. The fraternity system will also amp up its efforts to enforce risk management guides, he added.
(Visited 112 times, 1 visits today)