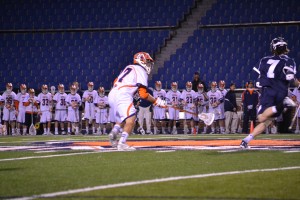 Reed Dempsey
Senior Writer
Following a tough loss to Penn State, the No. 6/7 Bison had a strong rebound, scoring 11 goals in the first half to cruise past Holy Cross 16-9.
Story continues below advertisement
After being held to just three goals against a solid Penn State team, the Orange and Blue looked to come out strong against the visiting Crusaders.
"We wanted to make sure that we came out more fired up than Holy Cross," Brock Ghelfi '16 said.
The Bison looked like they were fired up as Ghelfi and Todd Heritage '14 each scored in the opening five minutes to give the Bison an early two-goal lead. Holy Cross responded with a goal of its own at the 9:05 mark, only to then allow four straight tallies by the Orange and Blue, including a second goal for both Heritage and Ghelfi.
Just before the end of the first quarter, the Crusaders were able to get back on the board and close the Bison lead to 6-2.
The Orange and Blue continued their domination in the second quarter, holding Holy Cross scoreless, as the offense went to work, adding five more goals. According to Ghelfi, the team was executing their game plan perfectly.
"We can attribute the success of our first half to the intensity and mental focus that we brought from the first whistle," Ghelfi said.
With a nine-goal lead heading into the second half, the Bison game plan was to run out the clock with long possessions on offense. The visiting Crusaders scored two goals in quick succession at the outset of the second half, but the Orange and Blue responded with a pair of their own by Chase Bailey '13 and Thomas Flibotte '16, bringing the score to 13-4.
Although Holy Cross added three additional goals over the final minutes of the third half, compared to just one from the Bison, the Orange and Blue lead was safe at seven goals.
The Crusaders would score twice in the final quarter, but two insurance goals by Sean Doyle '16 helped seal the victory.
Doyle and Heritage led the Bison offense with four goals apiece, as Ghelfi and Bailey each added three of their own. David Dickson '15 and Peter Burke '14 combined for eight assists.
The Orange and Blue will travel to West Point, N.Y. Saturday for a game against Army.
(Visited 47 times, 1 visits today)