Men's lax comes back to beat Army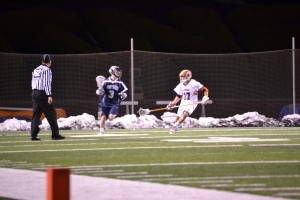 Reed Dempsey
Staff Writer
In a crucial Patriot League matchup against Army on April 6, the No. 11 Bison rebounded from a 5-3 halftime deficit to squeeze out a 9-8 victory over the hosting Black Knights.
The Orange and Blue found themselves in a hole early, as Army rattled off two goals in the opening five minutes of play. Three minutes later, Thomas Flibotte '16 would put the Bison on the board, cutting the deficit to just one.
The Orange and Blue offense gained possession at the beginning of the second quarter, where David Dickson '15 found Chase Bailey '13 to tie the game at two apiece. Dickson would then add a goal of his own to give the Bison their first lead of the day. The advantage wouldn't last long as Army's faceoff man won the ensuing draw, rushed down the field and scored just seven seconds later. Before the end of the half, the Black Knights added two more tallies to reestablish a two-goal lead. 
Down at halftime, the Bison knew they would need to turn it around, but never questioned their ability to do so.
"We weren't at all in a panic mode. We knew that we were just about to break through on offense and the D was a couple of plays around from shutting them out," Kyle Feeney '13 said.
Army came out firing in the third quarter with a total of 11 shots. Solid defense in combination with three big saves from Feeney kept the Black Knights off the board. Meanwhile, the Orange and Blue kept busy with a second goal by Dickson to open the second half, followed by unassisted tallies from Peter Burke '14 and Bailey. 

Army finally broke their scoreless streak at the beginning of the fourth period, tying the game at six. With a slashing call on Army one minute later, the Bison were able to take advantage of a man-up situation when Burke found Bailey to restore the Orange and Blue lead. Sean Doyle '16 would score on an assist from Todd Heritage '14 to put the Bison up two.
After the Black Knights cut the lead to a single goal, the Bison again found themselves in a man-up situation. The Orange and Blue would work the ball around before Doyle found Heritage, bringing the score to 9-7.
Army would add a man-up goal of its own at the 4:08 mark, but the Bison held onto their 9-8 lead over the final minutes of play, securing their 10th victory of the year.
The Bison look to avenge last year's loss in a critical Patriot League matchup versus No. 18/19 Lehigh on Friday at 7:30 p.m. in Christy Mathewson-Memorial Stadium.
"Last year it was a heartbreaker to lose to a team that took your stuff and beat you with it. I know a lot of guys are excited to get some revenge on them," Feeney said.
(Visited 37 times, 1 visits today)