Faculty and peers mourn the loss of Emily Singleton '12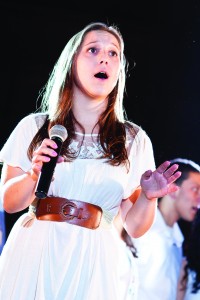 The University's Emily Singleton '12 passed away on April 7 in an apparent accident in a NY subway station. Police still do not know the direct cause of death – just that she was found on the tracks at the Canal Street station. Originally from Downington, Pa., Emily was living in Park Slope, Brooklyn, enrolled in The Neighborhood Playhouse School of Theatre since September of 2012.
Emily graduated with a BA in Theatre and Women's & Gender Studies, but was also a "vibrant student in numerous philosophy and dance courses," according to Paula Davis, associate professor of Theatre and Dance.
Davis shared a message on the Message Center Digest to illustrate Emily's involvement and influence on campus:
"Emily was an active member of the theatre program, appearing in the Bucknell productions of 'Twelfth Night,' 'Blood Wedding,' shading silhouettes of smaller ones, 'No Exit,' 'Chicago,' 'Just Space' and 'The Wild Party.' Many students from across campus worked with her and remember her fondly for her direction of 'The Vagina Monologues' in the spring of her senior year in 2012. She was also a member of the acapella group, Two Past Midnight, and an avid advocate for the LGBT community as a member of FLAG & BT. In addition to her training at Bucknell, Emily also studied in NYC at The Neighborhood Playhouse School of Theatre, The Circle in the Square Theatre School, the Stonestreet Studios Film School and most recently at NYU."
Emily's overall involvement on campus has been noted by many.
"When our community gathered to process this tragedy, I was most struck by how much Emily did on campus and how many people her life touched," Kelly Knox, associate professor of dance, said. "So many students from singers in Two Past Midnight, to activists who took part in 'The Vagina Monologues,' to fellow actors, technicians and stage managers in the Department of Theatre and Dance all spoke of her passion, intensity and authentic engagement."
Knox was referring to an informal memorial gathering which was held in Harvey Powers Theatre on April 9 at 4 p.m.
Emily was involved with V-Day Bucknell and last year, along with Mollie Morris '12, she directed 'The Vagina Monologues'–an annual benefit performance that raises awareness and funds for anti-violence groups.
"'The Vagina Monologues' combined what Emily was most passionate about–theatre and women's issues–and as she did with everything else, she put 100 percent into it," Lindsay Allardyce '14, director of this year's 'Vagina Monologues' said.
According to Allardyce, two days before the show, one of Emily's actors dropped out. Emily took on the role herself and memorized the actor's lines in such short notice. She then performed it with confidence and theatrical strength.
"I did not know Emily well, but did know her to be a woman who was committed to her work and to making a difference," Tracy Shaynak, director of the Women's Resource Center, said.
According to Allardyce, Emily was one of the strongest, most outspoken allies of the LGBT community that the group has ever had.
Emily's influence on campus was inspirational, especially in the Performing Arts departments.
"I worked with Emily her freshman year in 'Blood Wedding' and her senior year in 'The Wild Party,'" Dustyn Martincich, assistant professor of Theatre and Dance said. "She brought a rush of energy to each process, took on challenges with fierce determination and, in her mile-a-minute way, did it with a smile and a laugh."
Emily proved to not only excel in her talent and willingness to take on challenges with enthusiasm, but also as a friend.
"I was lucky enough to do a few shows with Emily during our time at Bucknell," Ali Keller '12 said. "The one that stands out the most to me was shading silhouettes of smaller ones, by Bianca Roman '10. Emily and I were sophomores at the time, we had a few classes together and were friends, but I really got to know her through that experience. That process allowed me to get to know Emily (and the rest of the cast and crew) on an incredibly personal level. She became the person I looked to in class when I felt out of place and alone. I would look over and she was always there to catch my glance as if she knew before I had even turned my head that I needed her for a moment."
Allardyce highlights Emily as such a presence in normal life "that on stage she was 10 times more amplified."
"I knew Emily best through designing costumes for her for the many productions she was in," Davis said. "She was an incredibly gifted performer who could act, sing and dance, and invoke deep emotion in an audience. Onstage and off, I found her to be present in every moment–this was her gift to those around her."
Emily's fervor for life, theatre and her community will never be forgotten.
"Emily was the most encouraging and kind person I've been lucky enough to know in my life–and as evidenced by the response to her tragic accident, I know I'm not the only person who felt that way," Keller said.
Davis relayed a message from Dean of Students Susan Lantz to the students of the Theatre and Dance department. Lantz urges students to reach out to one another, and to seek resources, such as Psychological Services and the staff of the Office of Religious Life. According to Lantz, plans for a more formal memorial gathering on campus will depend on the wishes of Emily's family. Any questions or suggestions about this service may be forwarded to the Office of Religious Life. As soon as details are known about a service on campus,  students will be notified.

(Visited 328 times, 1 visits today)