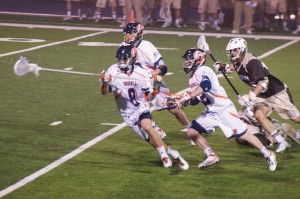 Reed Dempsey
Staff Writer
In a game to determine the host of this year's Patriot League Championship, a 5-0 run by Lehigh proved too much for the hosting Bison, propelling the Mountain Hawks to an 11-7 win and the Patriot League Regular Season title.
Story continues below advertisement
With strong defensive play on both sides, the game remained scoreless over the first six minutes, before Brock Ghelfi '16 found the back of the net at the 8:50 mark. Just 31 seconds later, the Bison would extend their lead when Peter Burke '14 scored off a pass from David Dickson '15. Lehigh finally put itself on the board at the 7:07 mark, but the Orange and Blue would respond with another goal of their own to regain their two-goal lead.
Over the next two quarters, the Mountain Hawks completely shut down the high-powered Bison offense, aided by a 12-save performance by the Lehigh goalie. During the second quarter, the Mountain Hawks were very efficient, scoring three goals on just five shots and taking their first lead of the night.
As the second half opened, Lehigh scored twice more, establishing a three-goal advantage.
The Bison stopped the bleeding at the 7:41 mark, when Dickson found Chase Bailey '13 to cut into the Lehigh lead. The Orange and Blue then fired off 12 shots, but were unable to convert for a goal. On an ensuing clear, the Mountain Hawks' goalie fired the ball downfield against the Bison 10-man ride, finding the back of the net and pushing the Lehigh lead to three.
The Orange and Blue were able to respond with a goal by Todd Heritage '14, but a pushing call against the Bison at the very end of the third quarter allowed Lehigh to take advantage of a man-up situation, adding another goal. Lehigh then added another point, bringing the score to 9-5.
Sean Doyle '16 then scored his first goal of the day, but the Mountain Hawks would find the back of the net twice over the next eight minutes, for a comfortable five-goal lead. Bailey added his third goal of the game with just under a minute to play, but Lehigh would hold out for the win.
The Bison will be back in action Saturday, visiting Colgate for their final regular season matchup. The game will be shown live on CBS Sports Network at noon.
(Visited 116 times, 1 visits today)