Bison Bruiser challenge runs through Lewisburg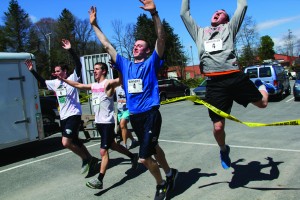 Christina Oddo
The annual Bison Bruiser, an urban obstacle race, took place on April 14 at 10 a.m. It was hosted by the Outdoor Education and Leadership and sponsored by BuckWild, the Bucknell Outing Club and CLIMBucknell. The event took place across campus as well as downtown.
The Bison Bruiser is a relay adventure race where participants jump, bike, paddle and run throughout campus and town to find clues that eventually lead the groups to a celebration. Food and beverages were served in the Smith parking lot throughout race day.
"I was on the committee that helped organize the event along with at least 10 other Outing Club members," Rebekah Hupp '13 said. "It was a lot of work to prepare for, but the event was definitely a success. We had a good turnout for the event, especially on a busy Bucknell weekend. Every group that came to my station seemed enthusiastic and happy to be participating."
Registration began March 25, and people were able to sign up in groups of four or five. The event was also free and t-shirts were available for purchase.
"It was great to see Bucknell students getting outside and running around campus," Hupp said. "I had multiple people text me saying that they saw people running around and that it looked like fun. Thanks to everyone that participated! A special thanks should go to Liz Semeraro '16, Monica Herzog '13 and Tony Stafford (Director of Outdoor Education) for the hours that they put into organizing the event. Also, for all of our volunteers on race day. They made the day work!"
(Visited 68 times, 1 visits today)