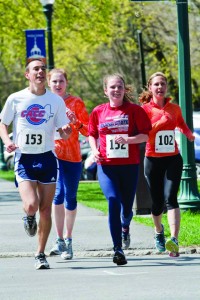 Christina Oddo
News Editor
The Gulden Runners Affinity Housing Program hosted the first Gulden 5K run/walk this past Sunday. The race was $5 for individual runners or $20 for teams of 5, and all of the proceeds went to the Leukemia & Lymphoma Society. Gift bags with goodies were awarded to the top finishers of teams and of individual categories based on age and gender. The course was across campus, starting and ending at the field house, including the soccer fields.
"The goals of the race are to promote running to our campus community and to raise money for cancer research, all in the memory of the late Cross Country and Track and Field Coach Art Gulden who died in May of 2001 after battling Lymphoma for over 10 years," Abby Gulden-Luthi, the Gulden Runners Affinity adviser said. "The race was attended by some alumni who ran for Coach Gulden including Ron Hess, Jessica Hess and Brian Harshman. Other Bucknell cross country and track and field alumni came to support the runners and some alumni children ran in the race. Race staffers included life-long friends of Coach Gulden."
Story continues below advertisement
Eric Balaban '14, the Gulden Affinity House Leader, helped initiate the planning and execute the race.
"Given the conditions, we were thrilled with the race's attendance," Balaban said. "We had about 80 people sign up which is outstanding for our first try in putting on a 5K. More importantly, we were about to raise over $700 for leukemia research in Art Gulden's memory which is impressive considering the registration fee was only $5 per person."
According to Balaban, the race itself ran really smoothly. An official timing system was set up for the race, and Public Safety officers were stationed at various intersections directing traffic.
"Many participants commented on how comfortable they were that they weren't going to get lost because we did such a good job directing the race," Balaban said. "Afterward, the participants enjoyed a free food table and recognition of the top finishers, including Chris Sacks '14 who finished first for college men and Claire Buhr '15 who finished first for college women."
"Running to support a good cause with some of my best friends was a lot of fun," Buhr said. "It was great to get out on a nice Sunday morning and race with members of the Lewisburg community and other Bucknellians."
"I think the race went really well, I am glad that a lot of people came out to support the cause," Sacks said. "The men's XC team did a great job organizing the run. The win was a lot of fun and I look forward to racing in future events that the XC team put together."
According to Balaban, the Gulden 5k Campus Run/Walk is already being planned for next year, although it may be moved to the fall.
"We got stellar participation this year, particularly from Bucknell staff and the women's cross country team, but we really want to get more students involved next year," Balaban said.
"Next year we are hoping to move this race to Homecoming Weekend to encourage more participation from alumni and their families," Abby Gulden-Luthi said. "We hope to add kid races as well as tshirts and perhaps a catered brunch post-race."
Balaban thanks the Gulden Affinity members, Abby Gulden-Luthi and Residential Education for granting the budget.
(Visited 97 times, 1 visits today)